Kenneth Branagh reveals that playing the Russian villain in the new 'Jack Ryan' film was "a little treat".
Sir Ken directs the big-budget blockbuster bringing the popular hero back to screen, after previous outings by Messrs Ford, Baldwin and Ben Affleck.
He also sneers his way through the role of Viktor Cherevin, the soldier-turned-businessman - whose destructive plans take Chris Pine as Ryan to Moscow, in 'Jack Ryan: Shadow Recruit', a franchise reboot which also explains how economics whizz Ryan was first recruited by the CIA.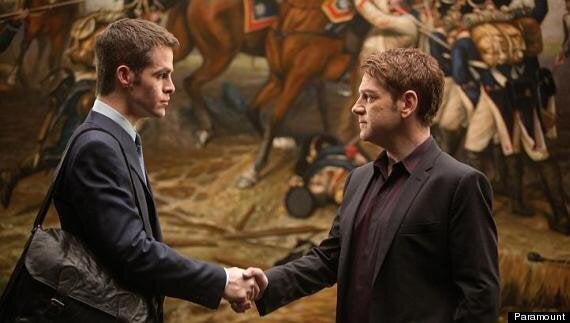 Chris Pine and Kenneth Branagh have brought the 'Jack Ryan' franchise back to life
Branagh tells HuffPostUK:
"I enjoyed playing someone who doesn't raise his voice. These types… they're very powerful men of few words. I'm not going to just yell my head off and play just a psychopathic functionary from one of these films. From a director's point of view, then maybe the character quality we want to get into this movie can help distinguish it from just another thriller.
"I also liked researching these Soviet era figures, working out who this man actually be. How did he make his money? When did the bruiser become the businessman? So when you're stood facing Jack Ryan, there's very little left to do."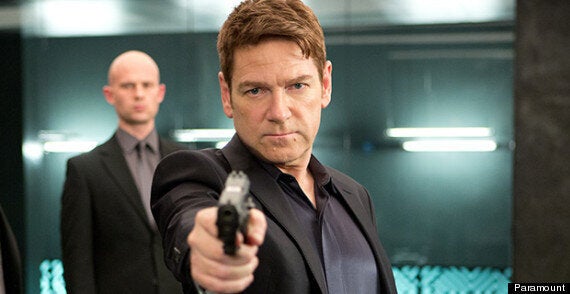 Branagh relished the chance to play a Russian villain - "speaking in a very quiet voice"
Branagh's ability to bring more than the stock-in-trade villain to the film is not in doubt. After all, he's been feted as one of this country's great actors since his Renaissance Theatre Company's great successes ('Henry V', 'Much Ado about Nothing', 'Hamlet') led to his being touted as 'the next Olivier'.
Since then, he's taken some interesting diversions, via jobbing actor (Woody Allen's 'Celebrity') and even to Nordic TV lead - he confirms a fourth and final series of 'Wallander' is on its way, the last series being the adaptation of the final book 'The Troubled Man'.
Most recently, he's been big-budget director for hire, on 'Thor' and 'Jack Ryan', and Branagh admits that, "even for me", this last incarnation has been "a bit overwhelming".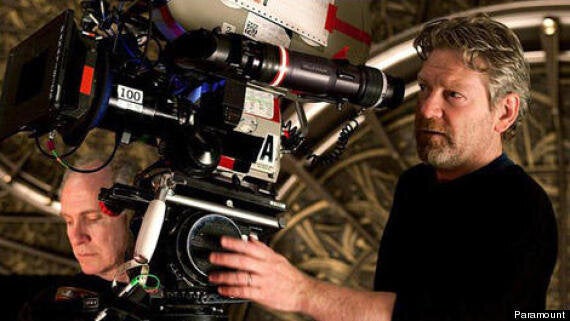 Kenneth Branagh admits even he's "overwhelmed" by his recent change of direction
"For me it's an interesting time to consider that, this fork in the road that I've taken over three films as a director, is a little bit unexpected," he explains. (He's also helmed a big 'Cinderella' adaptation, due on screen in a couple of years.)
"Now it feel as though there's a moment of letting that sink in and seeing where one heads next."
Has it been comparatively easy to reinvent himself Stateside, I wonder, thousands of miles away from Renaissance, Ken-and-Em memories, ubiquitous accusations of lovie-dom that go with any signs of cross-genre success?
"It's true to say people see you differently," he agrees, when I mention Steve Coogan's recent assertion that it's easier to change direction on the other side of the pond.
"People are not as proprietorial," he muses. "People do feel some ownership has occurred. Sometimes it's very touching and sometimes it creates an atmosphere of disappointment at perceived mis-steps or slights.
"The syndrome feels usual to me. But I'm delighted for Steve Coogan."
Another obstacle that could easily have plagued Kenneth Branagh was how to follow his ridiculously triumphant early outings, involving screen hits both in front and behind the camera, on stage and screen, classical and contemporary. It all seemed to happen in a whirlwind of activity around the late 1980s/1990s – did he have any fears that this kind of work ethic was ultimately unsustainable?
"The truth is, it's a bit hard to remember," he answers frankly.
"The memory I have is of feeling as though I couldn't own it. I was occasionally confused and beleaguered, surprised, astonished by the intensity of the gaze on me for early work.
"I was and remain a driven individual, and work was my salvation from wondering whether you deserve it, or whether you need to embody this thing.
"You just feel that things are being spoken about or said about you that you can't compute with your own experience, and you suffer a bit from that disconnection.
"It just changes when you get older. Specially if you've been through a number of cycles"… he shrugs… "films that do work, films that don't, performances that people love and hate…
"From a creative point of view, perhaps it's worth trying to strategise. I was always much less of a strategist than I suspect people thought, I was much more intuitive.
"It was never about the acquisition of fame or money or success, it was, 'Where does the good work lie, and where does the good fun and good times lie on the way?' And I feel as though, in that sense, I'm the same as I ever was."
'Jack Ryan: Shadow Recruit' opens in UK cinemas from Friday 24 January. Watch the trailer here…