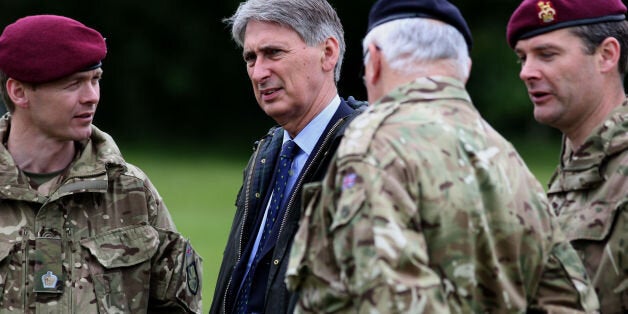 Hundreds more job losses in the Armed Forces will be announced today.
Defence Secretary Philip Hammond will release details of the job losses in the House of Commons later, a spokesman for the Ministry of Defence confirmed.
It has been reported that the Gurkha regiment will be affected by the redundancies.
The regular Army is being cut from 102,000 to 82,000 by 2020, while the newly-renamed Army Reserve - formerly the Territorial Army - is being expanded from 19,000 to 30,000.
Thousands of jobs have already gone in the past three years.
Chief of the General Staff, General Sir Peter Wall, told Sky News the last round of redundancies demonstrate the military has done what was asked of it:
"This redundancy tranche marks the final leg in our reduction of the Army from its former strength towards 82,500.
"It's the end of a period of significant uncertainty, albeit the relatively small number affected in this final tranche who will get our particular attention in making sure that they are fairly treated and support their transition to civilian life.
"This actually draws a line and we are now concentrating on drawing in the right talent to populate the future Army structure which is all about our operational readiness for future challenges."
It is expected that, as has previously been the case, recruits currently serving on operations will be exempt from the redundancies.
The cuts come despite the Army launching a recruitment campaign at the beginning of the year for both regular troops and reservists after saying it was struggling to attract applicants.
Hammond said then that a television advertising campaign would "dispel forever the myth that somehow the Army isn't recruiting".
He added: "Yes, the regular Army will be smaller in the future than it has been in the past, and yes, there will be one further round of redundancies unfortunately, but that does not mean that the Army is not recruiting.
"Because the Army is an organisation which always recruits people at the bottom and trains them up and allows them to progress through the system, we always have to be recruiting."