Six siblings – all members of a Muslim family - have been jailed for what the judge described as the "sustained and brutal" attempted kidnap of a white woman who was having a relationship with their sister.
The victim, Sarah Harrison, 35, was in a relationship with Nazma Ditta, 28, and was targeted by members of her partner's family as she left work in Blackburn Lancashire.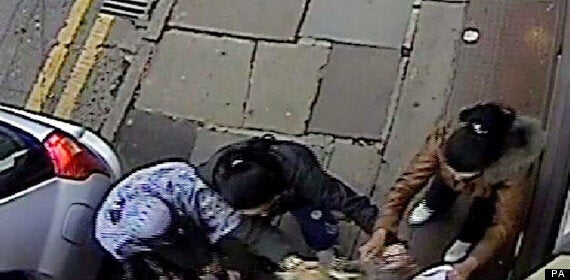 CCTV footage of Atfah Ditta, Ghazala Ditta and Nighat Morris and victim Sarah Harrison
CCTV captured Harrison's attackers approaching her and the violent struggled that followed as Ditta's siblings sought to find out where Miss Harrison and their sister were living.
Footage of the broad daylight attack, which happened on June 20 last year, showed members of Miss Ditta's family trying to bundle Miss Harrison into their car, along with shouts of "get her in, get her, you've messed with the wrong Muslims". According to Preston Crown Court, Miss Harrison said she was worried that she would have acid thrown in her face.
Miss Harrison was attacked by sisters Ghazala Ditta, 31, Nighat Morris, 38, and Atfah Ditta, 32, and their brother Tahmoor Ditta, 26. When a work colleague of the victim tried to intervene, Tahmoor Ditta threatened them by brandishing a metal tool, while the three sisters punched and kicked Miss Harrison before attempting to drag her into a silver Toyota Corolla.
The victim managed to stop herself from being kidnapped by holding onto the side of the vehicle. Eventually, the attackers gave up and got back into the car and drove away, leaving Miss Harrison standing, bruised, at the side of the road.
More from the Press Association:
In the days leading up to the attack, members of the Ditta family had confronted the victim at her workplace and asked her about the whereabouts of their sister.
They also asked her work colleagues about where she parked her car and waited at various locations for her to leave work. Miss Ditta had previously declined to have an arranged marriage and left home days before the attack to move in with Miss Harrison, although she pretended to her family that she had gone to Manchester for a new job.
Sentencing, Judge Graham Knowles QC told the siblings: "Your anger that a white non-Muslim woman was in a relationship with your sister brought your determination to destroy that relationship and force your choices on her and her partner. This case is about power and control. It is about striking fear into the heart in order to control not just the body but also the will.
"You all came to know about the relationship and were determined to end it and were determined to get her back in the family home to please your mother."
He said a "carefully planned ambush" of Miss Harrison was devised. "The intention was to cause your sister to leave her for good and if possible to find where you sister was," he continued. "A brutal and sustained group attack took place. How she found the strength and skill to keep out of the car I do not know, but she found it."
Ghazala Ditta, Atfah Ditta, both of Lambeth Street, Blackburn, and Nighat Morris, of Banker Street, Bolton, pleaded guilty at an earlier hearing to conspiracy to commit actual bodily harm, attempted kidnap and robbery. They were all jailed for five years and four months.
Tahmoor Ditta, of Lambeth Street, Blackburn, pleaded guilty to the above charges and also admitted assault and possession of an offensive weapon and was sentenced to six years. Two other sisters, Tosif Ditta, 35, of Pringle Street, Blackburn, and Nayyar Mehmood, 37, of Queens Park Road, Blackburn, had pleaded guilty to conspiracy to commit actual bodily harm and were imprisoned for three-and-a-half years.

(left - right) Tamoor Ditta, Tosif Ditta, Atfah Ditta, Ghazala Ditta, Nayyar Mehmood and Nighat Morris
The children's mother, Rani Ditta, 55, of Queens Park Road, Blackburn, had been charged with conspiracy to kidnap but in November the prosecution offered no evidence against her.
The court heard Miss Harrison and Miss Ditta had been in a relationship for two-and-half years before the family finally learned about it in the days before the attempted kidnap. In text messages between the siblings there was reference to arranging a "one-way ticket to Pakistan" for their sister.
The judge said the offences were partly motivated by the defendants' perception that Miss Harrison "lacked your religious beliefs". He went on to read a reference sent to him on behalf of one of the defendants which attempted to describe the background to the offences.
Not naming the author, Judge Knowles quoted the letter which said: "Even now in 2014 the Asian community stigmatises relationships and marriages which have not been arranged through the elders. A same-sex relationship is something that cannot be comprehended."
The judge pointed out though that an Asian man had made a 999 call to police to describe the attempted kidnap and that another Asian man provided the registration plate of the car involved. He went on to tell the defendants: "I am afraid I do not find you to be remorseful in any significant sense. I am not persuaded that you accept that you really did wrong."
Each defendant was also subjected to a restraining order preventing them from contacting or approaching Miss Harrison and Miss Ditta. Concluding, Judge Knowles said: "There must be a clear message that each of what you did and planned carefully to do cannot be tolerated."
The siblings had planned to send her to Pakistan where another family member was allegedly awaiting her arrival, according to Lancashire Police. Investigating officer Detective Sergeant Mark Haworth-Oates said: "This has been a particularly difficult case for the victim and her partner given the familial link.
"The family clearly worked together to plan this despicable offence that was guided by their feelings of misguided honour. They attacked the 35-year-old victim in broad daylight in Blackburn town centre, robbing her of her bag and assaulting her, simply for being in a relationship with their sister. This was a relationship that they disapproved of and felt brought shame on their family.
"Lancashire Constabulary will not tolerate acts of honour-based violence. As today's sentences demonstrate, offences of this nature will be thoroughly investigated and those people responsible will be brought to justice. I hope today's result brings both the victim and her partner some closure so that they can get on with their lives after this horrendous ordeal."
Related