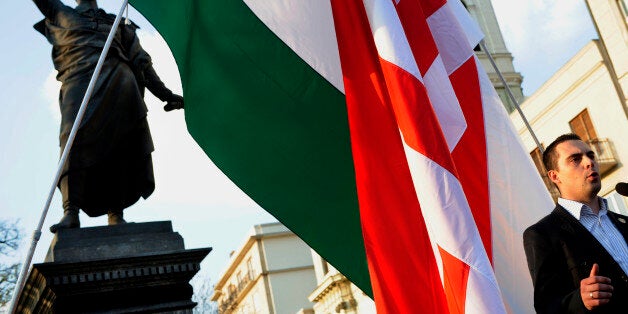 Protesters are set to voice their anger at the visit to London of an extreme right-wing Hungarian politician, as activists make last minute pleas to the Home Secretary to ban Jobbik's Gabor Vona from entering Britain.
No noises from the Home Office thus far indicate a ban will be forthcoming. Vona is attending a meeting with Hungarian citizens in London, though it has been rumoured he may also attend an additional event Saturday evening.
Labour London Assembly Member Andrew Dismore, who has led the campaign to ban the MP, has vowed to keep up the calls to Theresa May. The Home Office told HuffPost UK it cannot comment on individuals under consideration.
In the House of Commons on Thursday, MP Frank Dobson condemned the "antisemitic rally" in his constituency. "She [May] should use the powers that she has to keep this stinking, rotten, neo-Nazi alien out of this country," he told Minister Alistair Burt
Labour MP John Mann said that he planned to address his concerns about Jobbik to the Hungarian ambassador.
This week, Dismore and anti-fascist group Hope Not Hate delivered a 13,000-strong petition to the Home Office, asking her to ban Vona and for police to ban the gathering.
Jobbik, who have a several MEPs in the European parliament, are known for a series of anti-semitic and anti-Roma statements. In November 2012, Marton Gyongyosi, the party's deputy parliamentary leader, called for a security register of Hungarian Jewish legislators and ministers. Gyongyosi said: "I think such a conflict makes it timely to tally up people of Jewish ancestry who live here, especially in the Hungarian parliament and the Hungarian government, who, indeed, pose a security risk in Hungary."
Nick Griffin, the BNP leader, said last month that the three parties had a "common core set of values" and he was seeking a formal alliance with Golden Dawn and Jobbik.
Dismore said:"Jobbik are the most powerful outwardly fascist political party in Europe. Their level of support in the Hungarian elections shows how their message of hate has spread. Thousands of people have signed this petition, their message is clear – Gabor Vona must be banned.
"London is a diverse city and we must take a stand against those who have no other aim than to incite hatred. Our Jewish and Roma communities in London, for whom Jobbik reserve special hate, need defending against their filthy ideas."
The UK Roma Support Group have supported the calls for a ban. "Jobbik in Hungary has led the targeting and attacks on Roma communities. Their 2010 manifesto says: 'The co-existence and cohesion of Magyar and Gypsy is one of the severest problems facing Hungarian society'.
"The echoes of the 1930s are all too evident. But the growth of intolerance and hatred doesn't just happen - groups and organisations make these things happen. Allowing the visit of the Jobbik leader to this country and to this city, is the wrong message," they said in a statement.
Sabby Dhalu, Joint National Secretary of Unite Against Fascism said: "UAF has played a central role in driving back fascism in Britain. Jobbik's fascist hatred has no place in a modern society here, or in the rest of Europe. Wherever fascists have a presence, racist, anti-Semitic and Islamophobic attacks increase. We call on all democrats to reject Jobbik this Sunday."
Max Levitas, a veteran of the Cable Street movement against Oswald Mosley's fascists, said he backed a demonstration aganst Jobbik. "London is a great city. We dont want fascists polluting it with their poison. In defeating Mosley at Cable Street we sent a message out that fascism is not all-powerful. Jobbik and their fascist friends can be pushed back by organised mass opposition. No Pasaran."
"The sole purpose of my visit is to address Hungarian citizens only. There are hundreds of thousands living and working in the UK and I would like to present our election program to them just like any other Hungarian political party. Please note that it is not the first time that I arrive in London to meet Hungarian voters.
"I kindly ask that you disregard this politically-motivated rumour".
Related