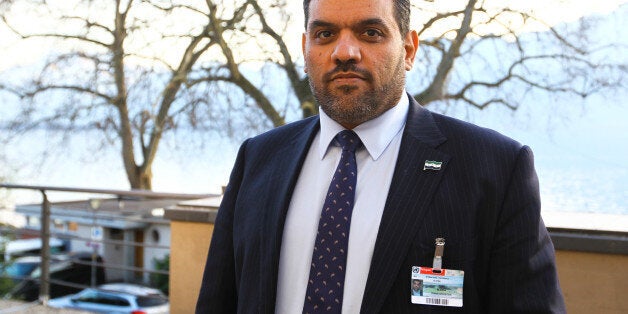 They entered through separate doors, then sat around a u-shaped table in a room wrought with tension, and spoke to each other only through a UN representative. But today, Syria's government and main opposition met for the first time in three years.
Delayed for a day, and having traded shots at each other for the preceding days in Montreux, Switzerland, the delegates sat with appointed mediator Lakhdar Brahimi, to tackle some the key causes of the conflict that has so far claimed 130,000 lives. Neither side actually spoke at the meeting.
According to Reuters, delegations listened in silence as Brahimi set out the priorities. They are a focus on aid and humanitarian relief, and then tackle to the politics. The first deal is for a short ceasefire to allow aid workers into the besieged city of Homs.
Opposition delegate Anas al-Abdah said Brahimi told them he did intend to bring up political, as well as humanitarian issues, according to the news agency.
"We had a suggestion prepared for this [Homs ceasefire] before the conference began and already spoke about it to the Red Cross and countries that are close to the regime like Russia, as well as United States and the United Nations," he told Reuters.
He said in a separate statement to euronews: "It was not easy for us to sit with the delegation that represents the killers in Damascus. It is not time to focus on small things, we need to think about the big picture and we have a real catastrophe happening in Syria."
President Bashar al-Assad's government delegation has made it clear it will not accept the creation of a transitional body to govern, saying this only "happens where the state is in disintegration, or has no institutions", arguing that is not the case in Syria.
The parties will meet again over the weekend.
Popular in the Community