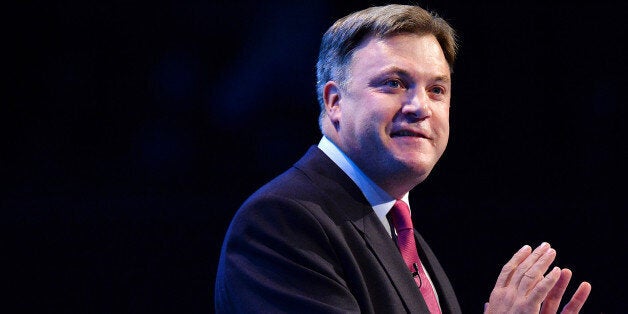 Here are the five things you need to know on Sunday 26 January 2014...
1) WE'RE ALL IN THIS TOGETHER
George Osborne may have coined the phrase 'We're all in this together' but it's his Labour counterpart, shadow chancellor Ed Balls, who has matched mere rhetoric with actual policy. Balls' announcement yesterday that a Labour government would bring back the 50p top rate of income tax on earnings of more than £150,000 is, as he explained on BBC1's Andrew Marr show this morning, an attempt to get the "deficit down in a fair way".
It's also hugely popular with the public - though you wouldn't have guessed it by judging the response from the morning papers. The Sunday Times sums up the reaction and the approach to Balls' bold and populist move: "[T]he move was condemned as a 'disaster' by an array of business leaders, economic think tanks and several of Labour's wealthy donors. Labour's former City minister Lord Myners labelled it 'predatory taxation', which risked putting Britain at a disadvantage on the international stage. 'It is not clear how this is going to help the UK economy compete with the world's growth economies,' he said... [T]he Labour peer Lord Noon, an assistant treasurer of the party... who has donated £760,000 to the party and is worth an estimated £45m, accused Miliband of penalising the business community and choosing 'the wrong time' to raise the top rate of tax."
Breaking news: rich people and City-types don't like higher rates of tax on rich people and City-types. But, um, er, most other people do. As even the Mail on Sunday concedes, after conducing a Survation poll on the issue: "On the face of it, Ed Balls's plan to raise the top-rate of tax to 50p is a vote-winner. It is supported by six out of ten adults overall, with fewer than one in five against."
As usual, the great British press, vast swathes of it owned by tax avoiders based abroad (think Murdoch, think Barclays), shows it is out of touch with public opinion on issues of taxation and finance.
Marr asked Balls whether he could risk being seen as anti-business, to which the latter retorted that his is "not an anti business agenda but anti business as usual agenda". It's a nice line but whether it'll help convince his critics in the City and elsewhere remains to be seen.
The shadow chancellor may be hated on the right, but he has a mixed relationship with the left. Members of the latter love the 50p top rate of tax, the bank bonus tax and the 'mansion tax' - but aren't fans of his Tory-lite austerity pledge yesterday to also guarantee a budget surplus by the end of the next parliament.
2) HEAVYWEIGHT OPPOSITION
It's still kicking off in Kiev. From the BBC:
"Ukrainian opposition leader Arseniy Yatsenyuk says protests will continue after he rejected President Viktor Yanukovych's offer to appoint him as prime minister of the country. Mr Yatsenyuk said the opposition was generally ready to accept leadership, but several key demands must be met, including new elections. Clashes continued overnight. Activists stormed a Kiev building housing police. The president's proposal came amid new efforts to end the deadly unrest. He offered the post of prime minister to Mr Yatsenyuk and the position of deputy PM to former boxer Vitali Klitschko following talks on Saturday."
Klitschko? I'd forgotten about his remarkable switch to politics. The former-heavyweight-turned-opposition-leader told the crowd that they shouldn't stop protesting: "We are not turning back and we will keep discussing and trying to find a direction."
That's the headline on the front of the Sunday Times, referring to French president Francois Hollande's decision to finally end his relationship with Valerie Trierweiler. The Observer reports:
"The statement was terse: François Hollande, speaking as a man and not the president, was 'putting an end' to his 'shared life' with Valérie Trierweiler.
"The would-he-wouldn't-he soap opera that had played out for two weeks had finally come to what many saw as an inevitable conclusion. It was over. As the president flew back from an official visit to the Vatican, where he was frostily received, Valérie Trierweiler, his now ex-partner and now ex-first lady, was packing her bags for a two-day trip to India. She will not be unpacking them at the Elysée Palace when she returns on Tuesday."
BECAUSE YOU'VE READ THIS FAR...
Watch my (semi-serious) 60-second video round-up of the week's politics: 'Mehdi's Minute'.
It looks like Michael Gove hasn't just upset the teaching unions, but the teaching inspectors, too. The Sunday Times has an interview Ofsted boss Michael Wilshaw:
"The chief inspector of schools has accused right-wing supporters of Michael Gove, the education secretary, of running a dirty tricks campaign against him that risks damaging school standards by undermining his authority... Sir Michael Wilshaw told The Sunday Times he was "displeased, shocked, angry and outraged" at attacks by rightwingers on the integrity of the inspectorate, whose job is to rate the quality of schools. 'I am spitting blood over this and I want it to stop,' he said. Asked whether he wanted Gove to call off the attack dogs, he replied: 'Absolutely', adding 'it does nothing for his drive or our drive to raise standards in schools. I was never intimidated as a headteacher and I do not intend to be intimidated as a chief inspector.'"
Over to you Michael (Gove)...
If you think the European Parliament consists of a bunch of jokers, you'll enjoy this story in the Sun on Sunday:
"TV comic Rufus Hound is planning to stand in May's European Parliament elections.
"Hound, 34, star of the comedy game show Argumental, will represent the National Health Action Party — set up by medics who fear the NHS is being privatised by the back door.
"Privately-educated Hound, whose real name is Robert James Blair Simpson, will stand in the London area and needs 200,000 votes to get a seat."
From the Sunday Times/YouGov poll:
That would give Labour a majority of 86.
@Ed_Miliband Labour will reverse the millionaire's tax cut because those with the broadest shoulders should bear the greatest burden.
@DanHannanMEP When crime, the deficit, unemployment and immigration are all falling, attacking the evidence seems not so much churlish as loopy.
@helenlewis Ed Balls on the 50p tax: "It's Labour saying 'we're all in this together'". Expert trolling. #marr
Adam Boulton, writing in the Sunday Times, says: "Now we know the difference between red and blue: 50p."
Nick Pearce, writing in the Observer, says: "Tax and spend will dominate the election – but will any party face the truth?"
Iain Martin, writing in the Sunday Telegraph, says: "The great EU farce plays out in Westminster."
Got something you want to share? Please send any stories/tips/quotes/pix/plugs/gossip to Mehdi Hasan (mehdi.hasan@huffingtonpost.com) or Ned Simons (ned.simons@huffingtonpost.com). You can also follow us on Twitter: @mehdirhasan, @nedsimons and @huffpostukpol
Related