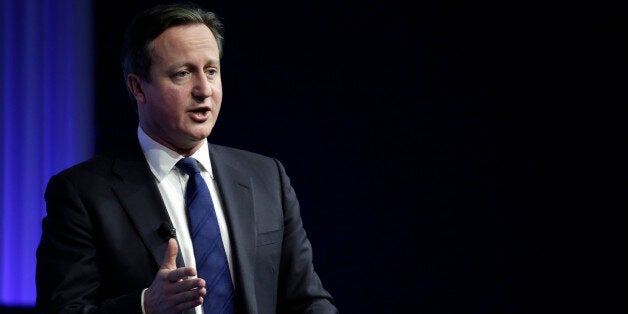 Only a "reasonable level" of Romanians and Bulgarians have arrived in the UK since the lifting of work restrictions, David Cameron said as he sought to quell a Tory Eurosceptic backbench rebellion.
The Prime Minister said he shared the frustrations of MPs threatening to vote in the Commons in favour of reimposing a ban on workers from the two European Union member states and agreed that immigration overall remained "too high".
But he insisted that was it was impossible to extend transitional controls - which expired on January 1 - to 2018 and urged rebels not to risk derailing the other "very sensible" curbs in the Immigration Bill.
"I completely understand and in many ways share the frustrations of colleagues who would like us to go further," Cameron told the BBC Radio 4 Today programme.
"We extended the transitional controls from five years to seven years. Those seven years are now up. We are not allowed under the current rules to extend them further.
"We paused the Bill over Christmas and now I think we can see, at the start of the year, so far there looks to be a reasonable level of migration.
"I hope we can make progress with the Bill because it does so many other good things."
Pressed on whether he could meet the rebels' demands, he said: "We have done the extent of what we can do within the rules that were agreed by the last government."
Around 70 Conservative backbenchers have signed an amendment to the legislation which calls on the Government to reinstate restrictions on migrants from Bulgaria and Romania working in Britain until the end of 2018.
The MP spearheading the drive, Nigel Mills, insists he does not wish to "crash" the Bill but says it must contain extra restrictions and dodged calls to reject that he would halt its progress.
"I think even the Labour Party aren't opposing them so absolutely the last thing I want to see is this Bill go down," he told BBC1's Sunday Politics.
"But I think we do need to set out very clearly that we have real concerns about the level of EU immigration and that something needs to start being done."
Cameron has proposed tougher controls in future on new countries joining the EU as part of his drive to secure reforms from Brussels to put to voters in an in/out referendum on Britain's membership by the end of 2017.
He has suggested they should only be lifted when new members' economies are performing at a certain level to prevent any risk of a large-scale exodus of job-seekers to better-off countries."
"I want to see a properly-run immigration system where we cut net migration into this country. It is down by a third but it is still too high. I want to see it come down further," the Prime Minister told Today.
He made no specific mention of his Government's original target of reducing net migration to the tens of thousands.
"What this Bill does is some very sensible things like saying you cannot endlessly appeal judgments when you are told to leave the country," he said.
"Very sensible things like if you are not at risk from being deported, you should be deported first and you can appeal from your country back at home.
"Very sensible things like saying that people who have no right to be here should not be able to use the National Health Service without paying.
"Very sensible things like saying we shouldn't let council houses or private sector houses to people who do not have a right to be in our country."
Eastern European leaders have hit out at politicians in the UK for stoking fears of a large influx of immigrant workers - insisting they do not expect the lifting of controls to greatly increase the numbers.
Ministers have repeatedly resisted demands to publish or commission estimates of the numbers expected to enter Britain in the face of some groups predicting as many as 50,000 could arrive each year.
Conservative agitation over immigration is fuelled in part by the increase in support for the UK Independence Party (Ukip) - which is threatening to push the party into third place at May's European elections.
Cameron acknowledged that part of Nigel Farage's party's popularity was down to voter discontent with mainstream politicians failure to control with immigration.
But he insisted the issue was "core to our whole plan" for the UK's recovery.
"When some of your own supporters have gone to support another party you need to win them back - and I am determined to win them back," he said.
"We will do that by demonstrating that the long-term plan that we have, part of that plan is dealing with immigration, welfare and a proper settlement in Europe.
"These are not side issues; they are absolutely core to our whole plan of getting our country to rise, helping our people to rise, making Britain a success."
In opposition he promised to "confront this issue and reduce net migration to our country back to responsible levels", he said. "That is exactly what we are doing."
"You have to have a balanced message," he said. "This government has done some very important work to get welfare under control, to get immigration back under control but we have also done some immensely positive things."
The world's first Green Investment Bank, National Citizen Service and being a leading humanitarian donor to Syria were those he singled out.
"We should take a balanced approach but we do not do anyone any favours by pretending that problems with our welfare or immigration or problems with the European Union don't exist. I believe in confronting these things and dealing with them very robustly."
Related