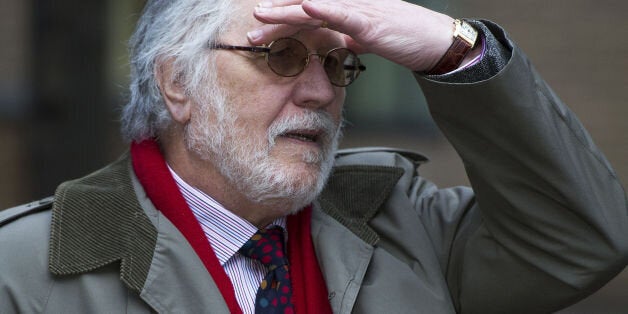 Dave Lee Travis complained that he had been "screwed backwards" by sex abuse allegations while his wife suffered breast cancer, a jury has been told.
The veteran DJ and broadcaster told police he had lost "work, money and health" due to the claims, jurors at London's Southwark Crown Court heard.
Travis, who is on trial accused of indecently assaulting 10 women and sexually assaulting another, described the claims as "crap" during a police interview on September 18 last year.
Junior prosecutor Teresa Hay said: "Mr Travis said that for 10 months he had lost his money, work, his health, he has had back and knee operations and had suffered stress.
"Worse still, his wife had suffered breast cancer. She was through it now but stress is bad for someone who is going through that.
"This was costing him his job, his living and everything he has built up over 50 years.
"For him these allegations don't stand up. He and his wife had suffered badly."
He said his accuser was "out to make money" and asked: "Why wait 20 years until it comes out in one-sided press coverage?"
"This is just someone else who can smell money and is jumping into the game to see what they can get out of it," he told police.
Ms Hay said Travis, known as DLT, told police: "He has been screwed backwards - he is selling his house to pay for solicitors and barristers.
"People might think he is a millionaire but his bank account is non-existent.
"His life has changed for the worse and he is full of anger.
"Even if he is acquitted he still won't be free. He is fucked.
Travis, 68, of Buckinghamshire, denies 13 indecent assaults and one sexual assault, dating back to 1976 and the height of his fame.
The alleged offending includes when he was working as a BBC DJ, as a broadcaster with Classic Gold radio, while appearing on Top Of The Pops, and when starring in panto.
The jury heard that Travis was questioned in relation to allegations that he groped a woman while dancing the Lambada at two British Airways parties in the early 1990s.
He told police he would provide musical entertainment or act as compere at such parties, dressed as a werewolf or Darth Vader, but could not remember those events in particular.
Asked about claims that he had told the woman she had "won the keys to his room", he claimed it was not the type of thing he would say.
He said it was "very easy to say there is no smoke without fire" and dismissed that idea as "rubbish".
Travis also told police that he had "great sympathy" with rape victims and had been involved in attempts to stop it in his work for children charities.
"But he didn't see the similarity between this and grabbing a girl's bum in a dance," Ms Hay said.
Related