The HTC One Gold is the new special edition of the flagship HTC One smartphone except it's… Gold.
4.7-inch 1080p screen
Qualcomm Snapdragon 600
1.7Ghz quad-core processor
HTC 'Boomsound' speakers
'Ultrapixel' camera
2GB Ram
Phil Blair, HTC European President: "The best artists have always been given gold discs to celebrate their success, but today most people listen to music on their phone. We wanted to celebrate that fact."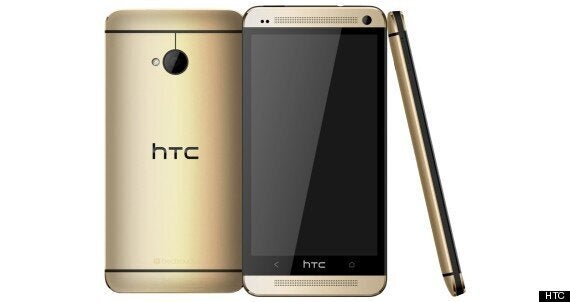 First, the basics: the HTC One is a fine smartphone, one of last year's best, with a great screen, extremely handsome design and some neat software touches that distinguish it from its rivals.
Unfortunately it also has some flaws - some of which were a problem at the time, and some which are more significant as we move into another year of new smartphone releases.
For one, the HTC One's experiment with a lower-megapixel, 'Ultrapixel' camera was designed to sacrifice image size for improved quality and low-light accuracy. And… it didn't quite work. The fact is the HTC One doesn't have anywhere near the best camera in the smartphone space, outdone by everything from the regular iPhone 5S to Nokia's array of absurdly high-resolution snappers.
It's also fair to say that elements of the HTC One's software - its 'Blinkfeed' magazine-style frontpage, the HTC Zoe image editor and sorting app - haven't set the world alight. Meanwhile its battery life is still an issue.
But the HTC One's biggest problem is that it's just a bit... old. HTC has already said a new flagship phone is coming soon. So what's the point in spending top dollar for an ageing phone?
Well, HTC wants to give you a reason. And so - in a move totally unrelated, honest, to Apple - it has brought the HTC One Gold to the UK.
The HTC One Gold is a restyled, recoloured One, with black accents but otherwise no differences to the original One.
The only real question, then, is how does it look? And the answer is… pretty decent, actually. Like the gold iPhone 5S, the gold One isn't too shiny or sparkly (unlike the version made for the MOBO awards). But it's not the exact same shade either - it's stronger, darker and richer than the iPhone equivalent.
Like Apple's handset, the Gold One is not outrageously flashy, but has a muted, 'bronze' tone that is classy while still being a bit self-consciously 'elite'.
Which model you prefer - the phone also comes in silver, black, blue and red - is a matter of personal preference then. And all are obviously good phones. But we might still suggest waiting around a couple of months to see what HTC has up its sleeves for 2014 before you make a big investment on what is really just a recoloured previous-generation smartphone.

Popular in the Community