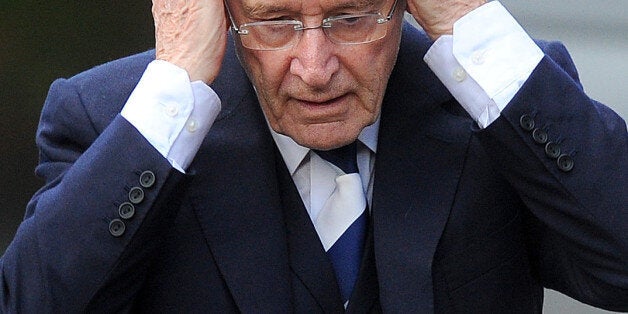 Coronation Street star William Roache admitted to a jury today that he cheated on his first wife in the 1960s in "a series of relationships" but he was not a paedophile.
Roache, 81, entered the witness box at Preston Crown Court to give evidence in his denial of two rapes and four indecent assaults, involving five complainants aged 16 and under.
During the period of the alleged offences between 1965 and 1971, he lived with actress wife Anna Cropper between a bungalow in Lancashire and a flat in London.
One of the alleged victims says Roache raped her at the bungalow in 1967 and then a second time at an adjoining cottage later the same year.
The defendant was asked about the end of his first marriage, which he said was in trouble from 1965 until 1969 when the couple got divorced.
"Were you faithful to Anna Cropper during that time?" asked his barrister Louise Blackwell QC.
"No, I was not, I'm sorry to say," Roache, who plays Ken Barlow in the ITV soap, replied.
He was then asked how often he had been unfaithful.
"Intermittently," he replied. "There was a period in my marriage which was not as fulfilling as it should have been and I did have a series of relationships with people. I was looking for relationships."
Roache said he began a relationship with his second wife Sara Mottram in 1970 or 1971 and they were married in 1978.
Miss Blackwell asked if, "from the time of meeting" his second wife, he was faithful to her.
"Totally faithful. For 39 years until her death, I was totally and absolutely faithful."
Soon after he went into the witness box, Miss Blackwell asked Roache: "Have you committed any of the offences with which you have been charged?"
"No, I have not," Roache said.
Miss Blackwell continued: "Do you have any memory of being in the company of any of the people that have made the allegations against you?"
"No, not one of them," Roache replied.
His barrister went through each of the six counts he faces and which Roache firmly denied ever took place.
"Did you ever take any young woman or girl into the bedroom and do as described, push her onto the bed and rape her?" asked Miss Blackwell.
"Absolutely not," Roache replied.
Asked if he had committed the second rape, he replied: "Absolutely not. Totally against my nature to harm anyone in any way whatsoever."
Roache is also accused of indecently assaulting a 14-year-old in the gent's toilets at Granada Studios in Manchester where Coronation Street was filmed, a 16-year-old in the men's toilets, one young girl in a dressing room and another in his Rolls-Royce on a lift home from the studios.
He said no one apart from those working at Granada would be allowed inside the studio while filming.
Miss Blackwell asked: "Did you ever take anybody into the studio?"
Roache replied: "It was an extremely difficult and dangerous thing to do. Any noise or cough and a recording could be gone.
"Occasionally very close family, my children. You had to get permission. You had to have a reason."
He said the same applied to his dressing room.
"I didn't want anybody in the dressing room," he said. "I needed to concentrate totally on lines and focus on what I needed to do."
He added that the surrounding corridors were "busy".
"There was always activity going on," he said.
Roache said members of the public were not simply allowed in via actors because of security at Granada.
"It was so much going on, so many big productions happened, including ours, that security was very strict and people were not allowed in," Roache said.
Miss Blackwell asked: "Did you ever take a girl into the toilets as described and commit an indecent assault on her?"
Roache replied: "No, definitely not. Those toilets were in constant use, constant use."
Miss Blackwell asked: "When you were leaving the studio, do you remember specifically giving autographs yourself and inviting one of those people into your car?"
Roache replied: "I remember giving autographs, that was a regular feature. But no, I never gave anyone a lift in my car, other than people I knew."
Roache was asked about the letter and signed photograph he sent to one of the complainants in June 1965 - shortly after the woman said he sexually assaulted her aged 14 after she competed in a talent show at Granada Studios.
He said it was "absolutely normal" that he sent her a photograph and wrote: "Love to (the alleged victim), William Roache (Ken Barlow).
The letter started off by saying "Thank you for your marvellous letter".
Roache told the jury: "That is the sort of thing I would do if they had written a nice letter."
The letter went on to state he was away for three weeks but would like a letter "waiting for me when I get back".
It added that he wanted her to "tell me more" when she returned to school.
Roache explained: "I used to like to personalise letters and obviously she had referred to something she had done at school here."
Miss Blackwell asked: "Did you write that letter with the intention of having personal face-to-face contact with her?"
"No, absolutely not," he replied.
He said that around that time he would receive between 15 and 20 fan letters a week from ages "nought to 80".
"I would always put personal comments in," he said. "If they made comments about something, I would refer to that to show I had read it."
He said he would always try to reply to fans to write back for "the ego thing" of getting more letters than his colleagues.
Miss Blackwell asked him: "Did you then have an interest in girls under the age of 16?"
Roache said: "No, absolutely not."
The barrister continued: "Have you ever had a sexual interest in girls under the age of 16?"
The actor replied: "No, I have not."
Roache said he had no recollection of a woman who claimed she was sexually assaulted by him in the gents toilets at Granada.
Miss Blackwell asked: "Did you ever go into a toilet on the studio floor, or anywhere else, with (the alleged victim) and indecently assault her?"
"No, I did not," he said. "It is not in my nature to do that sort of thing and those toilets were in very frequent use."
He told the jury he had owned two Rolls-Royces - one he bought in 1970 and sold in 1974 and a gold Silver Shadow model between 1986 and 1988.
Roache was then asked about his arrest by police at his home in Wilmslow, Cheshire, on May 1 last year on suspicion of rape.
He said he had only got back from New Zealand three days earlier after a long flight and was jet-lagged.
"I could not believe it, I was absolutely horrified," he told the jury.
Roache asked the officers if he could take a shower but was told it was best if they left as soon as they could.