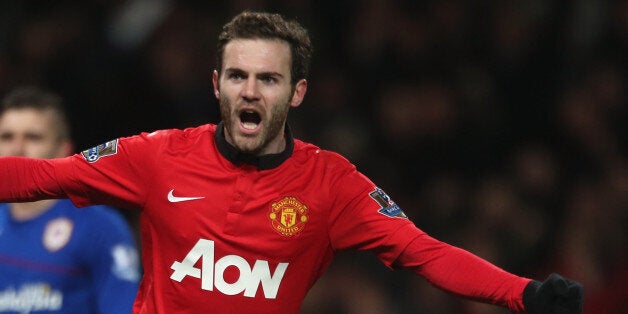 Old Trafford was barely a tenth full, but the roar was turned up to 11. "Number eight, Juan Mata," Alan Keegan announced to the delight of those who had passed through the turnstiles early. Manchester United's club record signing had yet to emerge from the tunnel but was already a box office draw.
How ironic, then, that it was Ashley Young, ostensibly a relic waiting to be cast on to the scrapheap by David Moyes, who took the plaudits. There was an assist for Mata on an unspectacular, yet quietly effective, debut outing in red as United made it two wins against two Welsh teams this month.
Given Ole Gunnar Solskjaer was stood in the opposition dugout, this was a fixture which had the makings of Blackburn's infamous win at Old Trafford in 2005. Nine seasons ago, supporters called Sir Alex Ferguson, among other things, a "disgrace", a "shambles" and "f*****g clueless" as they sang the name of Mark Hughes, who had just managed Rovers to a first win at United since Jack Marshall since 1962. And that was only six League games in. Another former favourite couldn't replicate that feat, however,
United and David Moyes have experienced too many false dawns already this season. They dismissed Swansea in Moyes' first Premier League match, brought Arsenal crashing back down to Earth, eviscerated Bayer Leverkusen and came back at Hull. "I feel now that I have enough time to make my assessment," Moyes said in his programme notes. The rebuilding job began against Cardiff with Mata the No.8 in a No.10 role.
Moyes Hints At Free Role For Mata
The wheels came off of United's brief stint as title challengers when they dropped two points at Cardiff in November. Kim Bo-Kyung's late leveller dashed any genuine hopes they had of retaining the League a fortnight on from their gutsy defeat of pace-setters Arsenal, in a game which was a damning reflection of Moyes' torrid first half of the season.
Seven days ago, Sunderland struck another late blow as United appeared to defend a lead, via an away goal, that was only valid after extra-time. They have not had great success with this approach as far back as their soporific stalemate with Chelsea in August. Southampton nicked an equaliser in October and two months later, having cancelled out Tottenham's lead twice, United played reticently and drew 2-2.
Bringing in a man of Mata's class betrays the negativity Moyes has been associated with as a Premier League manager. The handbrake was about to come off, as his arrival was welcomed by Wayne Rooney at the weekend and even Van Persie perked up following the news. "See you Tuesday," he teased on Twitter. He was back and Rooney was sat on the bench.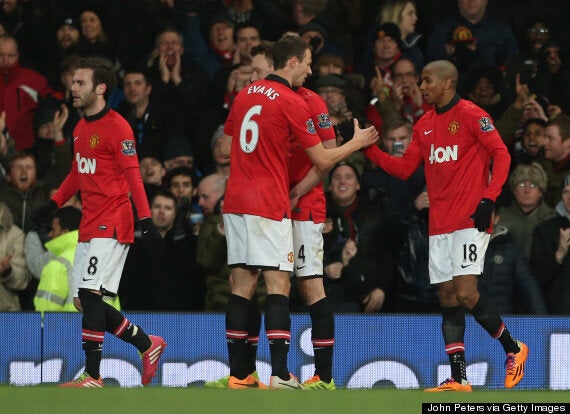 Young scored his third goal in six United games
It didn't take Mata long to make an impact. On six minutes, he dropped deep and floated the ball out to the left for Patrice Evra and after the woodwork denied Antonio Valencia and David Marshall gallantly thwarted Van Persie, the Dutchman nodded in for a comeback goal. It would be harsh to suggest Mata was "playing football the David Moyes way", though.
Eventually, Mata will get a chant of his own, but instead it was the returning Solskjaer whose name the Stretford End hollered. He bashfully acknowledged those he made happy when skies are grey before and during the game. If only Moyes had more like him this season. He might also curse Van Persie's injuries after he made it 17 goals in 21 games for club and country. In his last start against Newcastle on a damp and disheartening December day, the Dutchman, injured while boasting greying hair and a stubble, looked 10 years older. Forty-six days on, he looked 10 years younger.
On 20 minutes, Mata drifted another visionary pass to the far post where an unmarked Young fluffed his lines. Versatility is usually a backhanded compliment in football yet Mata's adeptness in four different forward roles is hugely beneficial for Moyes. Essentially, he will be tasked with mimicking Paul Scholes pre- and post-2006, and on Tuesday night it was the latter vintage. Occasionally, the Spaniard showed some of the bite which José Mourinho claimed he lacked at Chelsea, although, like Scholes, it appears as though Mata can't tackle.
The moribund silence from United fans highlighted how little there was to be enthusiastic about against the League's basement club before the pause. The ease in which Cardiff's pit bull, Gary Medel, played one pass from inside his own third into United's was alarming and might make Moyes re-think about not signing a central midfielder before Friday's deadline.
United's bluntness pushed Mata to the periphery. This was his first game since 1 January and he was supported by the passive Ryan Giggs and jack-of-all-trades but master of none, Phil Jones, which explained the lack of incisiveness as he opted for more direct routes. Giggs, embarrassingly United's best attacking midfielder at the age of 40, was again careless in possession and Jones charged around like a wrecking ball.
Just when Cardiff thought they had a foothold in the game, the rug was ripped from beneath their feet 14 minutes after the interval. Young's miss from Mata's pass earlier seemed to juxtapose past and present figures in this United side, but the winger collected another Mata's ball and struck his third goal in six games as he fights to remain a United player beyond the summer.
Mata was gifted a new foil when Van Persie was withdrawn for Rooney as Moyes sought to record his heaviest League win at Old Trafford. Valencia, still unable to cross a road, nearly atoned for overlooking an incoming Mata when he saw a shot tipped on to the post by Marshall and the No.8 himself wasted a presentable chance from Evra's pull-back.
On 84 minutes, the curtain came down for Mata, as he made way for Adnan Januzaj. Solskjaer thought Cardiff handled Mata well. "Yeah, definitely. He plays that pass in for the first goal out wide, which I thought was a foul on Kevin McNaughton, because I think Ashley Young blocks him off. But we did well."
Although Moyes had the luxury of introducing the Belgian and Rooney, the arrival of Tom Cleverley for Giggs reiterated that a starrier supporting cast in midfield is required if Mata is to truly thrive.