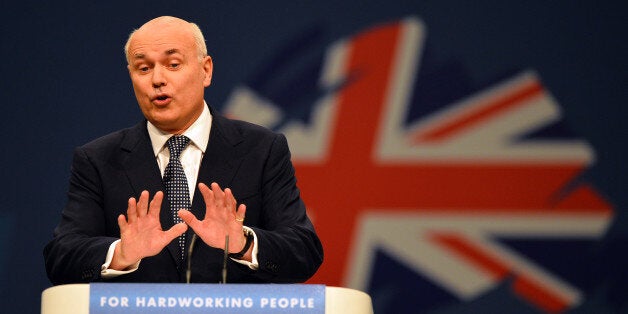 Iain Duncan Smith has lashed out at the Council of Europe's "lunacy" for calling on the UK to raise the amount of benefits paid out from their "manifestly inadequate" levels.
The work and pensions secretary said: "It's lunacy for the Council of Europe to suggest welfare payments need to increase when we paid out £204bn in benefits and pensions last year alone."
Duncan Smith said: "Whether for short term needs or longer term support, millions of people find that the welfare system provides a valuable and fair safety net when they need it most."
The Council of Europe committee, which aims to monitor the states who signed up to the charter, which includes Britain, is made up of 15 legal experts from around Europe, with only one of them, Colm O'Cinneide, based in Britain.
Conservative backbenchers reacted with fury to the Council of Europe's "attempt to meddle in our country", while critics told HuffPostUK that it was a "damning indictment" of the UK's welfare system.
Tory MP Priti Patel told HuffPostUK: "Britain has a proud record of providing a strong system of benefits and welfare to those in need and action being taken by the Government to help get more people into work while clamping down on abuse should be welcomed.
"The unaccountable and unelected Council of Europe has clearly failed to properly research and understand the system in Britain. This institution should instead focus its attention on other countries where there are serious problems rather than attempt to meddle in our country."
Mark Serwotka, general secretary of the PCS Union, told HuffPostUK: "This damning indictment of the UK's appallingly low levels of social security, even before the most recent cuts, exposes the shameful way the unemployed, sick and disabled are treated. It ought to nail the lie once and for all that anyone chooses a life on benefits or comes here from another country just to claim them."
Jacob Rees-Mogg, Tory member of the Commons European Scrutiny committee, said: "The UK has not signed the additional protocol providing for a system of collective complaints nor is the Charter applicable in domestic law. Therefore, the opinion it has expressed is of limited effect.
"It also overstates its case as the level of benefits is a matter of political debate not of being "manifestly inadequate". I am not sure that reports of this kind serve any useful purpose."
The ECSR report concludes that the UK's level of benefits were below the European standard.
The report reads: "[The committee notes that] short-term incapacity benefit stood at £71 and long-term incapacity benefit at £94 (€112) per week. ESA and Job-Seekers allowance stood at £67 per week (around €321 per month). As regards the state pension, it stood at £102 (€490 per month).
"The Committee also notes from the report that there are other types of benefits available, such as housing benefit. It asks whether it is available for single persons earning the minimum levels of short-term and long-term incapacity benefits, state pension and job seeker's allowance.
"The Committee holds that even if the minimum levels of short term and long term incapacity benefits, state pension and job seeker's allowance may satisfy the requirements of the European Code of Social Security, they are manifestly inadequate in the meaning of Article 12s1 of the Charter as they fall below 40% of the Eurostat median equivalised income."
Related