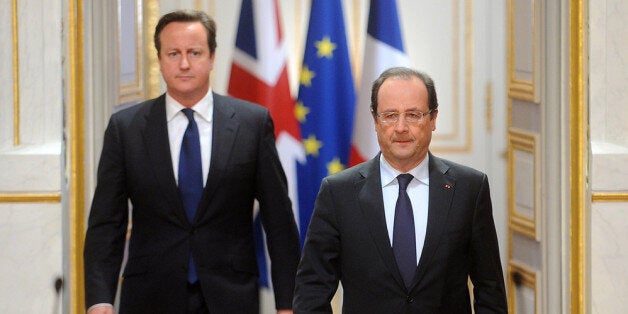 David Cameron will host French president Francois Hollande on Friday, but the summit designed to cement military ties threatens to be overshadowed by France's criticism of the prime minister's plans for a European Union referendum.
The pair will hold a bilateral meeting at RAF Brize Norton in Oxfordshire, in Cameron's constituency, before holding more informal talks over lunch in a local pub. The meeting is designed to show the UK-France alliance is still, as one British official put it, an "entente tres cordiale".
However the summit may be far from warm. On the eve of their president's visit, French officials dismissed the idea that Cameron would be able to enact any EU treaty changes before his planned 2017 in/out referendum.
An official close to Hollande is reported to have said it was "very, very unlikely" that any treaty changes could be made to suit the British government's deadline. "It's in our interests that Britain remains within Europe, but it is not by changing the treaties or rules will negotiate its place in the EU," the official said.
Designed to see off the threat from Ukip, a renegotiation of EU treaties followed by a referendum is a central plank of Cameron's pitch to voters in 2015 as well as the European elections in May this year.
British officials insisted that despite apparent French concerns, there was a growing consensus on the continent about the need for the EU to be reformed.
"We have seen over a period of months now increasingly recognition around Europe about the need for treaty change," an official said.
"I think you are seeing in a number of European capitals, there were discussions around this in the Bundestag recently as well, about the fact that the changes that the eurozone need to put through will require a treaty change.
The source added: "I am sure that as part of those discussions around EU reform over lunch, the prime minister will make the points about the importance of a more flexible more competitive EU. The prime minister has consistently said he's optimistic and takes a positive approach to the changes that he wants to see."
Grant Shapps, the chairman of the Conservative Party, recently said Hollande had run the French economy "into the sand". In an attack on Ed Miliband, Shapps said it was "extraordinary to witness a British political leader pointing to Hollande's France as the example of what he would do if he got into power."
Ahead of the summit British officials declined to issue such harsh criticisms, but said it was in the UK's interests "to see our export markets in a position for our exports to exploit those and to be able to export into them. The British government wants a resilient and growing global economy".
The visit comes after Hollande's domestic agenda was largely hijacked by deeply embarrassing revelations that he was having an affair. Unlike many meetings of foreign leaders, there will be no "spousal" programme that would involve Samantha Cameron and the visiting leader's partner.
Since 2010 Britain and France have agreed to deepen their defence ties. Cameron and Hollande will use the meeting to unveil a two year £120m feasibility study into the construction of a joint British-French unmanned combat drone aircraft. The pair will also agree a £500m joint purchase of anti-ship missiles for navy helicopters. There will also be a delivery swap which will see Britain receive two A400M transport aircraft sooner than expected, with the French agreeing to delay the delivery of two of theirs.
The venue also has symbolic meaning as it is where RAF C-17 transport aircraft take off from to assist the French-led mission in Mali.
Cameron will also hold talks with Polish prime minister Donald Tusk at Brize Norton today. Their meeting comes after Poland's anger at what it sees as an attempt by the British government to single out Poles living in the UK for unfair criticism.
In a prescient piece of parliamentary timing, Cameron's EU Referendum Bill will also be debated in the House of Lords today. The prime minister had hoped the legislation could be on the books in time to campaign on it ahead of the European parliamentary elections, however opposition from Labour and Lib Dem peers appears to has scuppered that plan.
Related