Communities face fresh misery this weekend as they brace themselves for yet more rain and potential flooding.
A combination of rain, high tides and strong winds means there is a "strong risk" of flooding in coastal areas.
The Environment Agency has flood warnings in place across the whole of England and Wales, while the Met Office has issued its own warnings of heavy rain and high winds of up to 60mph for many southern and western areas until tomorrow.
This morning there were 43 flood warnings in place, and 162 less serious flood alerts.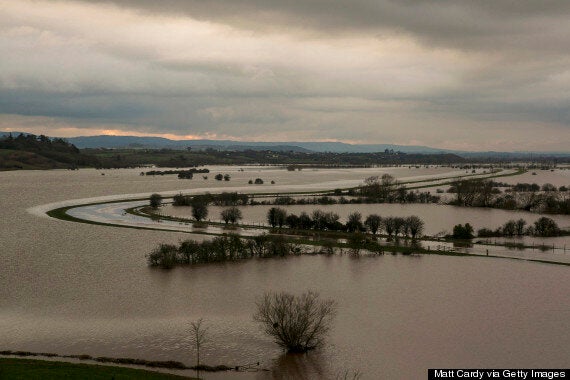 The River Tone that has flooded is viewed from Windmill Hill, in Stoke-St-Gregory
The Army is currently on standby to help villages cut off by the floods, and military planners yesterday met with council officials and emergency services to discuss how to bring relief to stranded communities. Around 40 properties have been flooded, the EA said.
High tides will leave coastal areas in the South West at risk of flooding, the EA said, and parts of south-east England, the North West and Yorkshire and Hull coast will also be affected by the wind, rain and high tides in the next few days.
Flood barriers have been put up at Frankwell in Shrewsbury to protect against a rise in river levels on the Severn after heavy rain in Shropshire on Tuesday, and temporary defences are also set to be erected at Bewdley on the Severn.
In Wales, students in seafront halls of residence at Aberystwyth University are being evacuated today until 4pm on Monday as a precaution.
The latest poor weather conditions come at the end of a month which has already become the wettest January on record for parts of southern England.
The forecasts will be met with trepidation by residents of the Somerset Levels, which has seen 65 square kilometres swamped by the worst flooding in the area for 20 years.
EA teams have been running dozens of pumps 24 hours a day to drain an estimated 1.5 million tonnes of water - equivalent to 600 Olympic-sized swimming pools - off the Levels.
Pat Flaherty, Somerset County Council deputy chief executive, said last night the Army had been providing much-welcomed advice and operational support, and had visited flood-stricken communities.
But the council decided that current needs are being met by the fire service and the British Red Cross, which together are supplying 10 additional pumps, hovercraft and a high-sided 4x4 Unimog vehicle to deliver aid, while the military will remain on standby if the situation worsens.
He said: "The military have come in at short notice, worked with our teams to assess what's needed and what's required and the fire service has met that need through its national specialist vehicles and trained staff.
"With potential flooding coming up over the weekend and flooding ongoing for weeks ahead, we now have any military help and support very much on call.
"The military have been involved in this incident for a period of time through the co-ordination group that we have. They have been there, they have been advising and they have been observing."
Chief Superintendent Caroline Peters, of Avon and Somerset Police, who is chairman of the strategic co-ordination group, said she was confident civil authorities could manage.
She said: "What the military can bring is a very quick response with additional resources should we require them.
"At this stage though, we are very comfortable with the civil contingencies that we have in place and the resources we have, we can manage this."
In Muchelney, one of the villages cut off on the Somerset Levels, residents have been trying to carry on with their lives as normally as possible, despite being stranded since Christmas.
Local resident Nigel Smith has been making use of a taxi boat operated by the fire brigade, and said the level of response was now "terrific".
The Government and the EA have come under fire from MPs and local councils in Somerset, with accusations of underinvestment in flood defence work. There have been widespread calls for urgent dredging of rivers, but the EA insisted that would not have prevented the recent flooding.
On Wednesday Environment Secretary Owen Paterson said that dredging would be carried out on the Levels as soon as it is safe to do so.
Speaking after a meeting last night of Cobra, the Government's emergency committee, MPaterson said he hoped a 20-year plan to deal with flooding in the Levels would be agreed sooner than the six-week deadline he had specified, the BBC said.
Farmer and Glastonbury Festival host Michael Eavis blamed the flooding of the Somerset Levels on a decision to halt river dredging over a period of many years.
Eavis, whose farm is on higher land and has not been affected by floods, said that the annual festival will be able to go ahead this year.
He told BBC Radio 4's Today programme: "Years ago, the Environment Agency took over from the regional drainage board and they decided that the riverbanks were all full of life and everything, and so they stopped the dredging. They sold all these marvellous machines that were made in Lincoln called draglines - fantastic machines, real British engineering - and they sold them off for scrap.
"There were about 50 machines and they were sold for nothing, which was a terrible, terrible decision. But it was an environmental decision in order to preserve the riverbank life - river oysters and little voles and things."
Eavis rejected the argument that the impact of this January's heavy rain could not have been predicted.
"It floods every winter here now," he said. "It's not a 100-year thing. It floods every single year and it never used to. For the sake of the meadows and the wild flowers and the fields and the farmers and the cows, this drainage has to be done. There's no other way of doing it.
"The choice is to abandon the farmland and let it all flood and leave it all to wading birds. (Farming) is so fundamentally important and an essential part of the Somerset Levels and the alternative is a terrible, terrible prospect.
"We were trying to launch a drainage scheme last September and we were getting a little bit of permission to do something, but it was stopped. Now the Prime Minister is behind it, we need to get the machines from somewhere and get the work done. It's too late now and it's too wet at the moment, but for next winter I'm sure it will be done during the summer time of 2014. Thank God, by the end of 2014 going into 2015 we will be OK again."
Popular in the Community