Not only do people in flood-hit areas of the UK have water damage to contend with - unsafe bacteria now threatens their health too.
Locals in Somerset say they are "sick to death" of their communities being under several inches of stagnant water and are renewing calls for overflowing rivers to be dredged.
Following a meeting of the Government's Cobra emergencies committee, Environment Secretary Owen Paterson said that all requests from local authorities and emergency services for additional support had been met.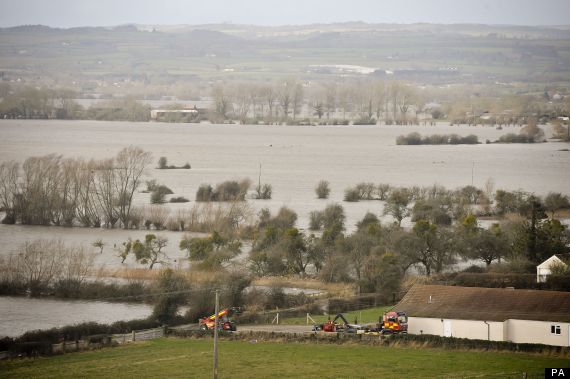 Flood water covers part of the Somerset Levels near Burrowbridge
"Everything possible is being done over the weekend to help those affected by flooding and to prepare for the further bad weather and high tides forecast overnight and into next week," he said.
"The Environment Agency continues to work hard to protect communities from flooding and alert them to the risks."
But with more rain forecast and the combination of high spring tides, residents say they are starting to become more concerned.
Moorlands father-of-two Gavin Sadler sighed at the prospect of his flooded garden being unsafe for his children two months after the waters have subsided.
The 35-year-old, who is a member of campaign group Flooding on the Levels Action Group (FLAG), said: "I've been looking out at where my garden used to be and I can now see a lake instead.
"There's only been a slight drop in water levels, but with more rain and the spring tide tomorrow there's growing concern about the situation.
"We were in the same boat last year and were told it was a one in a hundred year flood - now it's happened again.
"We began speaking out concerns back on December 18 and it feels like its only now that we are being taken seriously.
"In that time we're now into our fifth week of flooding and the water study now shows 60 times more than the safe pollution levels.
"We've been told that children shouldn't go in any of the areas for two months after the water has gone.
"The guys on the ground for the Environment Agency have been great.
"But some questions ought to be asked about at management level. Where was the help weeks ago?"
The Environment Agency said five severe flood warnings and over 160 flood warnings remained in place as strong winds, high tides and swollen rivers continue to bring an increased risk of flooding.
Significant disruption is predicted for much of the coast of Wales and south-west England from Flintshire to Dorset.
This includes coasts and tidal areas of Dorset, Somerset, Bristol, Gloucestershire and South Gloucestershire.
Additionally, parts of south east England, the north west and the Yorkshire and Hull coast will also be affected by wind, rain and high tides over the weekend.
Kate Marks, Environment Agency Flood Risk Manager, said: "A low pressure system combining with high tides brings a risk of coastal flooding to many parts of England. The risk is highest for south west England, although many coastal areas will be affected and the public should stay away from coastlines and tidal areas and not drive through flood water.
"At the same time the risk of river flooding continues for the southern counties as with the ground already saturated, rivers are very responsive to rainfall. Groundwater levels also remain high in southern counties.
"In the coming days, the Environment Agency is likely to issue further flood alerts and flood warnings so people should check their flood risk and get early warnings so they can take action to protect their property. This information is available at the Environment Agency website or calling our 24-hour Floodline on 0845 988 1188."
Officials also say that dirty flood water poses a risk to people's health - something confirmed by test results on waters in Moorlands, Somerset, obtained by microbiologists from the University of Reading.
They found the waters contained 60,000 to 70,000 bacteria per 100 millilitres.
According to the World Health Organisation agricultural water should have no more than 1,000 bacteria per 100 millilitres.
Microbiologist Nathaniel Storey, who carried out the research, said the results were not unexpected given the extent of the flooding.
"It's perhaps unsurprising considering there's septic tanks in these people's gardens that are overflowing and animals within close proximity," he told Sky News.
"Therefore all this excrement that's in these areas is being dredged up by the floodwater and taken into houses and into gardens."
Storey predicted it would take "about two to three months" for the bacterial levels to drop significantly, and warned that those involved in the clean-up operation must take precautions such as washing hands.
But a local MP has said flood-hit communities should be given Government money to dredge and maintain their rivers to stop the threat of future damage to property.
Ian Liddell-Grainger, Conservative MP for Bridgwater in Somerset, hit out at the Environment Agency for what he described as its failure to dredge the river, and called on the Government to hand over money that would bring a reprieve to beleaguered communities.
He said: "They (the Environment Agency) need to dredge these rivers, stop spending money - £31 million - on bird sanctuaries and spend £5 million, that's all we want, to sort this out.
"[Counterparts in the Netherlands] have a very clear system which is, what comes first is the humans. I'm afraid the birds will fly off elsewhere.
"I've said to (Environment Minister) Owen (Paterson) I'll make sure we get a price from the Netherlands. Let's talk to private contractors. If you look at the Environment Agency, first it will never be done, and second they will probably drop all the machines in the water."
Prime Minister David Cameron admitted it was "not acceptable" for people to have to live in the conditions they have faced for the past month.
Writing in the Western Daily Press newspaper, he said: "The Government is doing everything we can to help people recover as quickly as possible where they have suffered damage to their homes and businesses.
"Dredging will begin as soon it is safe to do so - and the Environment Agency will spend the coming months improving river flows across the South West, including dredging and weed clearance.
"But we need long-term action to reduce the risk of this happening again."
In the meantime, Environment Agency staff have been hard at work close to the Somerset village of Burrowbridge, where several road closures remain in place.
The organisation has drafted in several of its engineers from across the UK - with staff even being drafted down from the north west of England.
Road access to the village from the neighbouring Moorlands has been shut off, with several large-scale pumps being used to direct the water out into the bursting River Barrett.
Industrial-sized sandbags have been placed by the waters edge, along with several signs erected by residents urging the authorities to "dredge the river".
There have also been problems in the north of England.
Cumbria County Council said its workers had to deal with a "major weather incident" in West Cumbria - after 150 tonnes of debris brought on the by the floods washed up on a road.
Council highways boss Karl Melville said: "It has been another busy and challenging day for our highways maintenance teams, with some severe conditions and a lot of debris left on coastal roads. High tide has now passed, so we are out in force on the clear-up task. However, there is the threat of more disruption later, particularly when the next high tide is due.
"It's not a day to be driving unless you have to, and then I would urge caution given the possibility of debris and standing water on the roads."
Debbie Stark, a consultant with Public Health England's Devon, Cornwall and Somerset Centre, said: "It is unsurprising that samples of flood water have demonstrated the presence of bacteria normally found outside. This should not be compared to bathing or drinking water. Tap water is unaffected.
"Advice has been given regularly to local people about minimising any health risk. This includes avoiding contact with flood water, washing hands and food preparation surfaces and not eating food that has touched flood water. All our experience from previous floods tells us that where people follow health advice there are no significantly increased rates of gastro-enteric illness."
Superintendent Ian Wylie, of Avon and Somerset Police, said he was "very happy" with the resources made available to tackle the flooding.
"In terms of what we need at the moment, we're very happy with what we've got," he said.
Wylie added: "I would plead with anyone who is driving across Somerset, if there is a road closed sign saying flooding, do not drive through it because you really don't know how deep it's going to be."