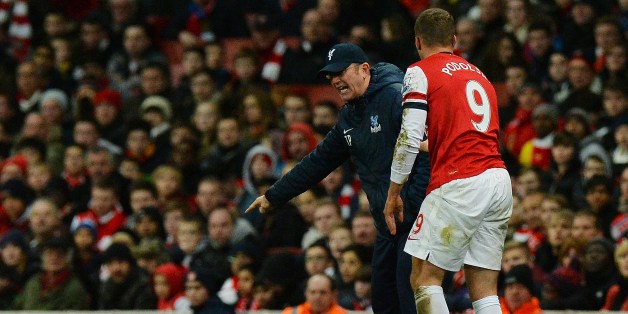 BEN STANSALL via Getty Images
The Arsenal press room is now decorated with framed front and back pages of past achievements, including the 1979 FA Cup win, the Mirror's "Arsenal win the World Cup" splash from 1998 and the club's record-breaking unbeaten run between 2003-04. The most recent news entry is they had signed Mesut Özil from Real Madrid.
Arsène Wenger should know how a signing can galvanise a squad. However quiet he has been recently, Özil's arrival is largely responsible for Arsenal not having to worry about finishing in the top four this season, let alone sitting above the 19 other Premier League teams. But like Juan Mata, he is a buoyant buy who papers over some glaring cracks that are widening.
The defeat of Crystal Palace has taken Arsenal back to the top yet you could be forgiven for thinking the title is beyond them. Officially, 60,005 tickets were sold for the game but the stands were pockmarked by thousands of empty seats and, bar Palace's boisterous followers, the Emirates Stadium impersonated a meaningless match in May, rather than a meaningful one in February.
Arsenal 2-0 Crystal Palace: Arsène Wenger Explains Kim Källström Buy
Not since Arsenal in 2008 has a team at the Premier League summit been so casually dismissed. Already neutrals are awaiting their annual spring capitulation, even though they confirmed their status as genuine title challengers as far back as October. Before a ball had even been kicked against Palace, eyes were glancing towards the north west ahead of Monday night's petrodollar derby.
"I've faced that question since the start of the season and we are today where we are," Wenger said of Arsenal's doubted title credentials. "That can't be a coincidence."
Gerard Deulofeu's equaliser in December, which prevented Arsenal from opening up a seven-point gap, could ultimately prove to be Arsenal's title death knell. Bar a few results, Wenger's side have reacted positively to that setback but victories which would usually be regarded as the hallmark of champions are generating blasé responses. "We are top of the League" was chanted as if it was a ironic token gesture, rather than one of fervent defiance
Arsenal are five points clear of Chelsea, for 24 hours at least, yet it seems they will not be taken seriously unless Thomas Vermaelen hoists the Premier League trophy in May. One bookmakers announced they will be refunding stakes on Manchester United to win the League this week, and it was something of a surprise another didn't pull a similar stunt on Arsenal to end their 10-year title drought either, following their baffling transfer activity last month.
Kim Källström arrived, injured, Julian Draxler didn't and neither did a striker. The Championship Manager early-2000s homage could have extended to the 35-year-old Miroslav Klose, who was briefly touted as the supporting striker Arsenal never bought. Instead they will have to make do with his erstwhile international partner, Lukas Podolski, who started against Palace in what could easily be construed as a vote of confidence in a striker whose popularity cannot compensate for his profligacy.
Should Olivier Giroud succumb to injury then Podolski could fulfil his squad number and start as the No.9. He was not going to receive that responsibility with Giroud alongside him on Sunday, and started in the wide left role he was accustomed to with Germany when they accommodated Klose. He needn't have bothered.
Again, Arsenal were too narrow in the first 45 as Bacary Sagna represented their source of escapism on the wing, yet stubbornly they attempted to carve open Palace through the middle, which was as congested as transfer deadline day. They breached Fulham in their last home League game through Santi Cazorla bucking the trend and engineering a move from the flank, yet he too was inevitably drawn inside.
For a player used to playing as an attacking winger, Podolski looked miffed, which would have been more noticeable had he not been so anonymous. Wenger warned Tony Pulis had "built up belief again" at Palace and they were typically well-drilled to contain Arsenal's delicate play. "When you're a good side, you're a bogey team for anybody," Wenger opined, mindful of Pulis' penchant for results over him while at Stoke. He never left the Emirates with three points, though.
Worryingly for Wenger, Arsenal's three best chances inside the first half fell to defenders. Julian Speroni was alert to deny Nacho Monreal from Özil's through ball and Laurent Koscielny's glanced header, while Per Mertesacker also headed on target from a set-piece. Criticised for their supposed lack of variety, Arsenal's presentable opportunities came via direct football.
Palace's supporters may not boast the most innovative songbook but they are infectiously passionate. No other set of domestic away followers have created such a cacophony in the Emirates' north east wing this season, and their boisterous and colourful support has enriched the sanitised Premier League.
For the second successive League game at home, Arsenal had drawn a blank before the pause. Not the most patient crowd at the best of times, the moribund home fans' fears were allayed when Alex Oxlade-Chamberlain dashed any chance of a repeat of those soul-sapping stalemates which marred their first season at Ashburton Grove. Cazorla was partly responsible for it again, as Arsenal went long, and Oxlade-Chamberlain skilfully teed up the Spaniard's assist to volley over Speroni for his first goal of the campaign.
Podolski's afternoon was best summarised when he luckily skipped past Joel Ward, hesitated to shoot and was quickly closed down. Thirty seconds later, he got his shot off from 10 yards but blasted it well wide. "Poldi" is popular, though, and that intensified when he went toe-to-toe with Pulis, detested by Arsenal fans thanks to his Stoke stigma, after he animatedly accused him of fouling Ward.
Invariably substituted, Podolski's anodyne afternoon came to an end in the 72nd minute. Oxlade-Chamberlain doubled the lead - and his tally - a minute later as Arsenal continue to be reliant on those further back, rather than up front.