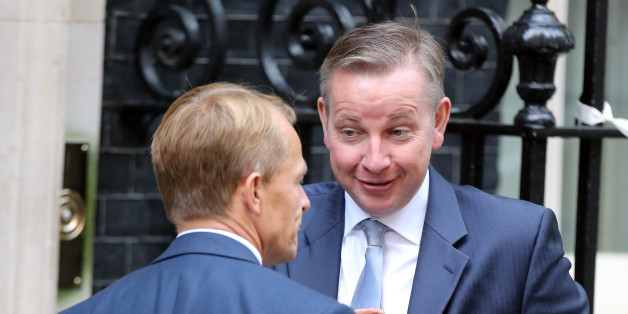 Steve Parsons/PA Archive
It's all kicking off in the Department for Education, with a furious row between Lib Dem David Laws and Tory chief Michael Gove.
After Gove decided to replace the head of Ofsted, the the normally-loyal Laws turned on him, accusing him of trying to pack the watchdog with his "own people".
It has brought to a head months of simmering tensions between Gove and the Lib Dems.
Gove had paid a glowing tribute to Labour peer Baroness Morgan of Huyton, who will not be appointed for a second three-year term as Ofsted chairman.
But the move was seized on by the Lib Dems as a fresh attempt to assert his influence over the regulator.
Morgan said there was a "determined effort" to oust non-Tory supporters from key positions.
And a source close to Schools Minister Laws said: "David is absolutely furious at the blatant attempts by the Tories to politicise Ofsted.
"The decision to get rid of Sally Morgan had absolutely nothing to do with her abilities, or even education policy, and everything to do with Michael Gove's desire to get his own people on board.
"David Laws is absolutely determined not to let Michael undermine the independence of this vital part of the education system.
"David's primary concern now is not to let Conservative game-playing destabilise Ofsted and he'll be working closely with them as Schools Minister to make sure that doesn't happen."
The latest row comes just a week after Chief Inspector of Education Sir Michael Wilshaw voiced his anger at the Education Secretary in the wake of media reports that two right-wing thinks were drawing up plans to reform or even replace Ofsted.
Gove was forced to issue a statement voicing his full support for Sir Michael and promising to dismiss any aides if they were found to be part of any "dirty tricks" campaign.
Although Morgan is a former close adviser to Tony Blair, her departure from Ofsted was seen as a particular surprise as she was regarded as strong supporter of Gove's free school and academies programmes.
Morgan insisted that there had been no falling out with Gove and blamed Downing Street for orchestrating a campaign to remove non-Conservatives from senior positions on public bodies and replace them with loyal Tories.
"I think there is an absolutely determined effort from No 10 that Conservative supporters will be appointed to public bodies.
"I think that is an issue for the Cabinet Secretary and the Cabinet Office to look at," she told the BBC.
"It has been a quiet, quiet drip. I'm not talking about Labour people being replaced, I'm talking about non-Conservative supporters being replaced by Conservative supporters."
Downing Street made clear that the decision not to reappoint her had been the Education Secretary's.
A senior Lib Dem source warned that they would not now allow Gove to appoint "some Tory donor ideologue" in her place.
"Education policy is far more important than rewarding a few Tory cronies. The Lib Dems will not let our children's education be dictated by some Tory donor ideologue," the source said.
"It's another reminder, if one were needed, of what this government would be like if the Lib Dems weren't in it to keep the Tories honest."