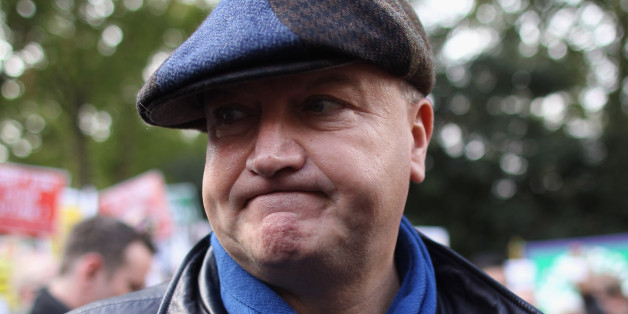 Dan Kitwood via Getty Images
Basking in the Brazilian sunshine, union boss Bob Crow sipped from a coconut after gaining himself a bargain through a holiday offer advertised in the Daily Mail.
But he had, in fact, got more than he bargained for, with pictures of him, a majestic shade of crimson, splashed across that very paper before the RMT strike.
Crow said the five-star jaunt was booked "long before the strikes were called" and said he spoke to negotiators "twice a day, every day and made it quite clear that I would be back, if needed.
"If I want to spend £10,000 on a car, or £10,000 on a holiday, or £10,000 on cigarettes, that's up to me," he told a press conference at the TUC's London headquarters.
"What do you want me to do, sit under a tree and read books of Karl Marx every day?
"On March 26 in the Daily Mail, there's the holiday. They're the ones that were advertising the holiday to go on. So they're saying 'go on holiday, but when you go you shouldn't really be on it'. So why are they advertising the holiday in the first place?
"They cop the money for the advert, but if you dare book it.."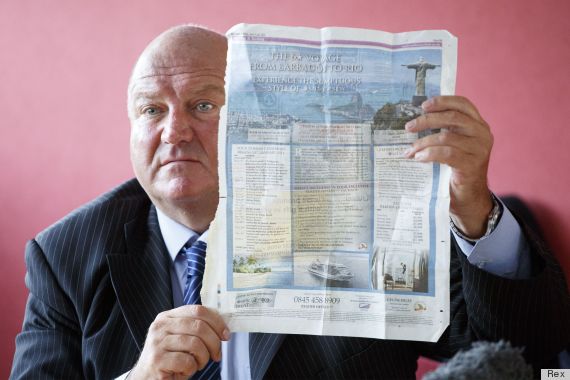 Bob Crow holds up a copy of The Daily Mail which shows an advert for a holiday to Brazil.
Crow, the general secretary of the union protesting the closure of Tube station ticket offices by a strike set to commence tonight, has co-ordinated much of the action from Rio de Janeiro's Copacabana beach.
Tuesday is set to be the first of two 48-hour walkouts on the Tube, with a second strike, organised with the Transport Salaried Staffs Association scheduled for 11 February.
The Sunday Times reported that Crow had gone on the luxury jaunt on 15 January, cruising on the Caribbean seas with girlfriend Nicola Hoarau, in a liner complete with spa, pool, champagne bar and casino.
The paper said the couple paid £7,000 for the trip, which took them on a tour of Grenada, Devil's Island and Belam, before their stay at the Brazilian beach, at the luxury Windsor Atlantica hotel.
An RMT spokesman said when the story was published: "Throughout his leave, Bob Crow was in constant contact with officers and staff of the union and, in particular, the negotiations aimed at securing a settlement to the Tube dispute."
Crow returned to work this week, flying in to London on Saturday.
Mayor of London Boris Johnson told the Daily Mail: "Bob Crow is entitled to sun himself silly if likes. What he isn't entitled to do is to hold London and her hardworking commuters to ransom.
"Call off the strikes Bob, towel off the sand from between your toes and perhaps then we can talk at City Hall. I can't offer you a pina colada but we do a decent cup of municipal coffee."
Crow has previously said he would only meet the mayor face-to-face if there were "no preconditions". Crow told reporters today that any negotiations would not have been handled by him personally, but by the RMT's negotiating committee.
"The Mayor of London ain't met me for seven years, I don't see what the rush is now I'm in Brazil," he said on Tuesday. "All of a sudden he wants to meet us. Perhaps he should have come out there, who knows? The fact is, I'm back here now, and he still hasn't met me.