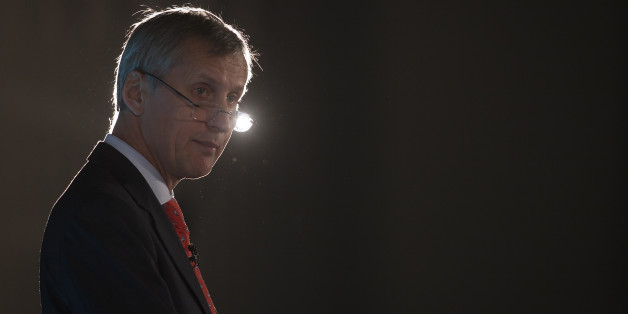 Bloomberg via Getty Images
Bankers caught mis-selling financial products to consumers should not be able to justify their actions by saying "they were only following orders", MPs warned the Financial Conduct Authority.
Treasury select committee member Mark Garnier told Martin Wheatley, head of the FCA banking watchdog, that allowing junior staff to use the excuse was a "post-modern Nuremberg defence".
Wheatley said that sales staff at Lloyds, which was slapped with a record £28 million fine for creating an environment which encouraged staff to sell products customers did not need or want, were responding to the incentive scheme as set out by senior managers.
"In aggregate the incentives created consumer detriment, and the people who implemented and monitored those will be covered in future," he told the Treasury select committee.
"But it is hard to conclude that everyone on receiving end of those incentives should be in the certification scheme, unless we conclude that anyone in a bank with any selling responsibility should be covered by that scheme."
Whealey also said allegations surrounding the fixing of benchmark rates in the £3.1 trillion-a-day foreign exchange market as "every bit as bad" as the Libor rate-rigging scandal.
At least 10 banks, including the Royal Bank of Scotland, have been drawn into a major investigation launched last autumn by the Financial Conduct Authority (FCA), the Treasury Select Committee was told.
The FCA's inquiry, joining investigations by Hong Kong and Swiss regulators, could take months to conclude.
Last April, RBS handed over to the regulator from its traders who called themselves "The Cartel" and "The Bandits' Club". London is the central to the foreign exchange market, with 40% of trades taking place in the capital.
The FCA warned that banks and traders could face fines and bans if misconduct is found, after previously fining Barclays, RBS, UBS and money broker ICAP for Libor rigging.
Wheatley said: "The allegations are every bit as bad as they have been with Libor."
"There are a number of other benchmarks that operate in London that we are investigating because of concerns that are being raised with us."
The benchmarks, which are used by fund managers to value their investments, are calculated by the median price of trades taking place in a 60-second window. It is alleged that traders were putting in client orders ahead of this window in order to influence the benchmark.