Kevin Pietersen's international career came to an end after nine turbulent years, with England's management deciding unanimously their relationship with the 33-year-old had run its course.
Reportedly, not one of the squad members for the disastrous Ashes whitewash advised new managing director Paul Downton that Pietersen should remain in the set-up.
Pietersen was told he would not be picked for the next two trips and no leeway was left for a change of heart; instead, Downton delivered a eulogy to Pietersen's England career and, in the process, a definitive end to it.
The player himself has accepted his England days are over, after 104 Tests, 136 one-day internationals, 37 T20 internationals and four Ashes victories, but spoke mournfully of the decision.
"Playing cricket for my country has been an honour. Every time I pulled on the England shirt was a moment of huge pride for me and that is something that will live with me forever," he said.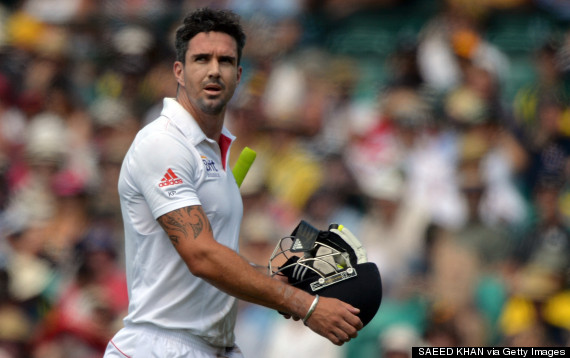 Pietersen will not reach his target of 10,000 Test runs
"Although I am obviously very sad the incredible journey has come to an end, I'm also hugely proud of what we, as a team, have achieved over the past nine years.
"I feel extremely fortunate to have played at a time of great success for England cricket alongside some of the best cricketers the country has ever produced.
"I want to thank everyone for their fantastic support and I wish the team the very best of success going forward.
"I believe I have a great deal still to give as a cricketer. I will continue to play but deeply regret that it won't be for England."
I care about the England team and that's why I want all the best players in the side.Its sad that we can't manage someone like @KP24

— Michael Vaughan (@MichaelVaughan) February 4, 2014
Looks now as if Oz. Have done a total dismantle job on England

— David 'Bumble' Lloyd (@BumbleCricket) February 4, 2014
Switching off for the night - too lively on here for me. Will RT a voice of sanity, who echoes my view, and head for a pint

— Jonathan Agnew (@Aggerscricket) February 4, 2014
must have written more words over the years about kp than any other player. journos at least will miss him http://t.co/YcVRmnuXHv

— Mike atherton (@Athersmike) February 5, 2014
So sad that this will now be the last time I leave a field in an England shirt... Incredibly… http://t.co/CiRjytYr0Q

— Kevin Pietersen (@KP24) February 5, 2014
No @KP24 for the Caribbean tour later this month against W.I?That's really sad for English/International cricket!Don't let the fans suffer

— Chris Gayle (@henrygayle) February 4, 2014
At a time when u wld think England should b nurturing their best players they score an own goal losing the great @KP24. Their loss is our...

— Damien Martyn (@dmartyn30) February 4, 2014
Paul Downton says time to rebuild both team and team ethic and philosophy - play straight it is then

— Derek Pringle (@derekpringle) February 4, 2014