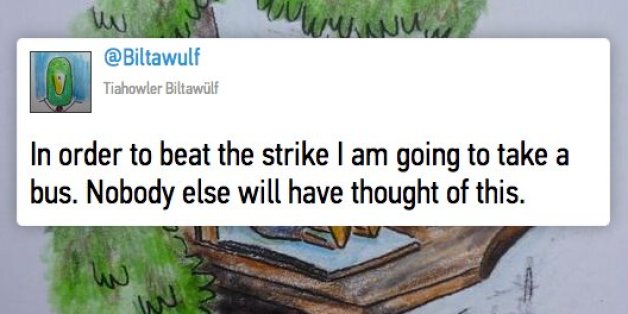 Twitter
As Londoners struggled to get into work on Wednesday morning, the scenes across the capital were, of course, chaotic:
Live pictures from the scene at King's Cross #tubestrike pic.twitter.com/cGe4RKtsQH

— Tom Phillips (@flashboy) February 5, 2014
The scene outside Finsbury Park station right now http://t.co/etxPB2bnUC #tubestrike

— Luke Lewis (@lukelewis) February 5, 2014
Chaos at Waterloo. #tubestrike pic.twitter.com/gNGjj2dm1i

— Keri (@kerihw) February 5, 2014
But the Tube strike was leading to some resourceful behaviour:
The people of Shoreditch will not be beaten by a Tube strike #tubestrike pic.twitter.com/TS85J9ufh9

— The Poke (@ThePoke) February 5, 2014
Not least by the unions:
Bob Crow furious as Boris brings in blackleg cover. #tubestrike pic.twitter.com/C0o76kCTmd

— Oonagh (@Okeating) February 5, 2014
In fact, some people resorted to quite drastic measures:
Some guy's trying to overcome #tubestrike by driving into Brixton station pic.twitter.com/LTwGCcc0AU

— matt brawn (@mattbrawn) February 5, 2014
(Not really. As Matt Brawn was forced to point out, he was making a joke.)
Here were some of our favourite funny #tubestrike tweets this morning:
While special mention goes to @Biltawulf - whose timeline was a thing of joy. Here were just a few highlights from his bus journey into work:
Of course, the Tube strike didn't stop most people getting into work. And it didn't stop some of London's finest cultural institutions indulging in some extremely tenuous self-promotion:
But today's winner? Apart from the Blitz spirit of Londoners? Probably @SuntaTempleton, who tweeted: "Usually I get the bus to work but they're all so busy cos of the #tubestrike so I got the tube…"
Bravo, London. Let's do it all again tonight, shall we?