A photo of a sleepy looking Underground ticket office worker has been making the rounds on many major media outlets this morning.
Publications including the Daily Mail and The Evening Standard wrote with open mouthed horror that "as millions of Londoners were caught up in travel chaos," the lady was snapped having a snooze.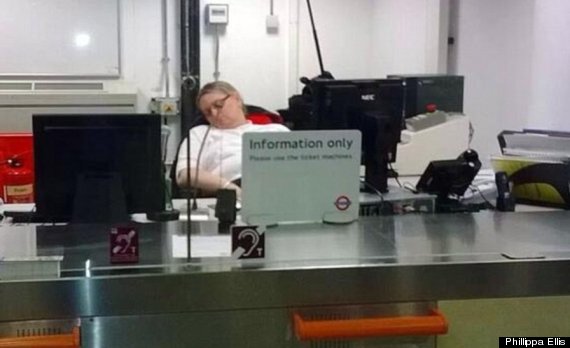 In reality, the Huffington Post UK quickly discovered the image was taken before the strikes had even started.
The photographer, Phillippa Ellis, told HuffPost the picture was taken Tuesday evening at 5.40pm at Paddington on the Hammersmith & City line.
"It was right in rush hour, " she said.
"My flash went off, but she did not stir. A TFL staff member said "No, no, no" to me, but there was another guy who gave me a thumbs up."
Today, as the tube strikes cause chaos across London, Ms Ellis said that considering she had "just got off a tube/bus journey from hell," she had "no sympathy" for the worker. But added "I hope she doesn't get fired."
"It just made me mad due to the timing and the chaos that I experienced this morning."