The ex-leader of the EDL has reportedly been attacked in prison, with Tommy Robinson's Twitter page describing his "black eyes, bloody nose, sore neck".
He was allegedly attacked in the holding bay of the prison, following a legal visit, according to letters sent to the Ministry of Justice.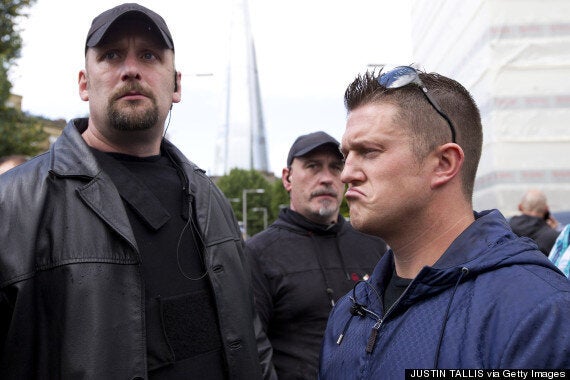 The ex-leader of the right-wing EDL Tommy Robbinson aka Stephen Yaxley-Lennon has reportedly been attacked
At his sentencing, Robinson's lawyer Charles Sherrard QC had warned the judge that prison authorities should be aware that Robinson would be a target for violence in prison.
Director Maajid Nawaz wrote to ask if the "situation may be reviewed given the physical threat against him, heightened because of his high profile and former affiliations to the English Defence League".
The letter said that Quilliam "continued to provide support and training for him, address his grievances, and tackle the ideology and narrative of extremism up to the point of his sentencing"... but acknowledged that the "process with Stephen, with the EDL, and with extremism in general is yet to be completed".
Quilliam said that Robinson was still closely associated with his "former views and affiliated to the group he used to lead in the public consciousness. For this reason, he is particularly vulnerable to physical violence from fellow prisoners."
Nawaz said Quilliam believe that continued attacks could provoke "a nationwide sectarian and violent response from his supporters" and the prison could "do more harm than good as part of its general rehabilitative responsibilities".
A Prison Service spokesperson said: "A prisoner has been treated for minor injuries following an incident at HMP Woodhill on Wednesday 5 February.
"Violence in prison is not tolerated — anyone who commits an act of violence in prison will face the consequences."
An investigation will be carried out, the spokeswoman added.
Nawaz, who is also a Lib Dem parliamentary candidate, wrote to a senior DCLG official asking for government funding on the day Robinson left the EDL, a Freedom of Information request revealed.
The DCLG refused funding for Robinson, a spokesman told HuffPost UK.
Related