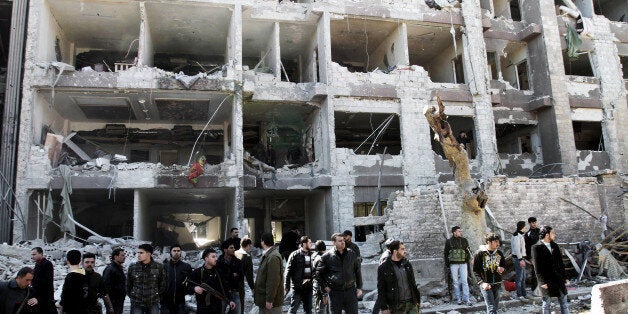 British jihadists fighting in Syria could be directly involved in torture and murder, with some purportedly sharing their violence on social media.
Researchers at Kings College London have uncovered various Facebook and Twitter accounts of British men, thought to be fighting for the al-Qaeda endorsed Jahbat al Nusra in Syria. They described, and posted pictures of what are alleged to be attacks on the Free Syria Army (FSA), a rival rebel group.
One mobile phone video, shown to Sky News, shows an alleged captured FSA fighter being beaten for blasphemy. The man is tied to a car tyre and flogged with a metal pole, as bystanders call him a "kuffar", or unbeliever.
The man who posted the video on Facebook has been verified as a British citizen by experts from the International Centre for the Study of Radicalisation at King's College London, although he has used a pseudonym on the social networking site.
In English, he captioned the video: "Some FSA are starting to feel they run things! This FSA scum never thought we wud jump out at them and pick them up after saying some abusive words to our brothers.
"Two then got ahead of themselves and swore at Allah, at this point there was no stopping us LOL although we where told to jus leave them."
Another alleged British fighter posted a series of disturbing tweets, including a photo of three men, tied up and blindfolded.
"Got these criminals today. Insha'Allah they will be killed tomorrow. Can't wait for that feeling when you just killed someone," he tweeted.
On his Facebook page, he has also posted a picture of bloodied hand, with the caption "My first time!"