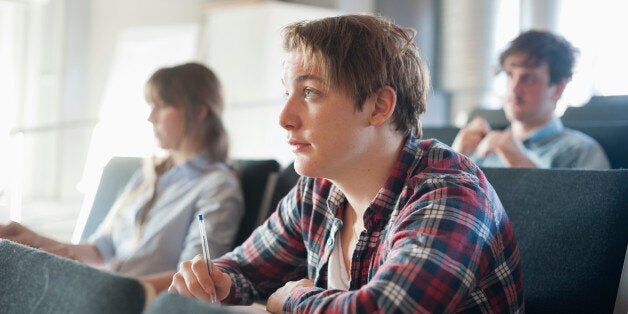 Female students who are victims of sexual assault are being forced to take classes with their attackers because universities are ill-equipped to deal with the "toxic lad culture" invading campuses, it has been claimed.
University staff are not trained to deal with sexual harassment or violence, while many institutions don't have specific policies, meaning victims have to study alongside the perpetrators, according to student welfare officers.
Female students are also reportedly facing predatory sexual behaviour as their male peers buy into the sexualised culture of being a "lad" at the university.
The disturbing revelations came at a "Laddism in Higher Education" conference on Friday, held by the Society for Research into Higher Education. Representatives and researchers from universities and student unions discussed how to tackle the ever-more problematic "lad culture".
Kelley Temple, women's officer at the National Union of Students, says lad culture is often "sexist, misogynistic and homophobic".
"There is a 'sexualised culture' which occasionally spills over into sexual abuse. There is this pack mentality, clearly related to the idea of masculinity, which effects everyone. But women are much more directly oppressed by it."
TRIGGER WARNING: Some readers may find this content disturbing
Isabel Young, a research associate at Sussex University, and author of the 'That's What She Said' report also highlighted the link between lad culture and sexual violence, citing the experiences of two female students.
"In the focus groups I have attended, one girl told me: 'My friend had some guy put his hand down her pants on the dance flow. She was a really quiet girl who didn't say anything. Guys think it's ok to do that.'
"Another student recited an incident which had happened to her friend, telling me: 'My friend girl was sexually assaulted by one of our male friends after falling asleep in his bed at the end of a drunken night out, but felt she couldn't tell anyone about it.
"'She felt silenced because of the position of this lad within the friendship group. It was then that I started to think that the line between men making these rape jokes and actively participating in sexual violence against women isn't that clear cut.'"
In an interview with HuffPost UK in February 2013, Temple said "universities simply don't take sexism seriously enough", as "no-one really understands".
And it seems, one year on, nothing has changed.
Student Abigail Burnam, a former equal opportunities officer at Oxford University, said there is a "lack of understanding around sexual violence".
"There are no policies set up to deal with it. Victims aren't sure where to go to and have questions which don't have clear answers. Very few university staff members have received training in sexual harassment."
"One sexual harassment advisor told a female student: "It's a pity you didn't have it in you to just give him a hard squeeze'."
According to Sophie Van der Ham, welfare officer at Sussex University, victims are forced to take courses with the perpetrators.
"One student at an unnamed university was sexually assaulted by members of the sports team on a night out," she says. "The university dealt really badly with this. She had to see them every day on her course and eventually she dropped out."
"Another student was sexually harassed by a student who worked alongside her at the university. The institution, again, didn't know how to deal with this and she had to continue working with him."
At one institution, a student rep posted rape apologist remarks on Facebook. But he wasn't disciplined and was allowed to remain in his position as there were no policies in place to deal with this.
"I've heard shocking stories about the impact of lad culture on women and their academic attainment - some have even left their university," Young said at the conference. "'I'm going to fuck you in half,' was shouted at female sports teams at one institution."
Richard Parry, a campaigns officer at Newcastle University, is trying to combat lad culture at his institution but says it's not without its challenges.
"Laddism offers new students reassuring, safe identity and a culture. It's impossible to change behaviour through a confrontational campaign.
"There's a big reluctance of sports clubs to commit to anti-lad messages. Many males instantly recoil from the language of feminism."
Dr Matthew Cheeseman, a research associate at Sheffield University, says many students believe their social life is a game and are distanced from reality.
"All the violence of banter, sex and alcohol, there is a sense of 'this is the world we have discovered'.
"One student described female Sheffield Hallam students as 'dirty skanks' fit only to be 'thrown to the side of the road'."