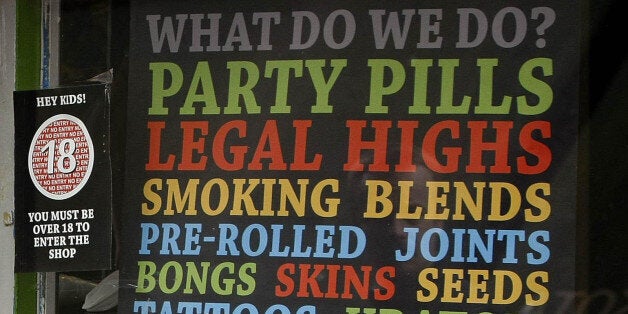 Deaths linked to so-called legal highs in the UK have surged, according to a troubling new report. The number of cases in which novel psychoactive substances - otherwise known as legal highs - were identified as the cause of death rose from 10 in 2009 to 68 in 2012, according to data published in the National Programme on Substance Abuse Deaths (NPSAD) report, compiled by experts at St George's, University of London.
The figures, which include Scotland and Northern Ireland, as well as England and Wales, also show the prevalence of the drugs in the post-mortem toxicology tests has increased from 12 in 2009 to 97 in 2012. Professor Fabrizio Schifano, spokesman for the NPSAD, said: "We have observed an increase in the number and range of these drugs in the post mortem toxicology results and in the cause of death of cases notified to us.
"These include amphetamine-type substances, dietary supplements, ketamine derivatives, among a host of others. The worrying trend is that these type of drugs are showing up more than ever before. Clearly this is a major public health concern and we must continue to monitor this worrying development. Those experimenting with such substances are effectively dancing in a minefield."
The report comes after crime prevention minister Norman Baker MP launched a review of legal highs, which will consider widening legislation to boost police and law enforcement agencies' powers. Baker today revealed a panel of experts for the review, which includes Government drug tsar Professor Les Iversen. The review is expected to be completed by spring this year.
Baker said: "I am determined to clamp down on the reckless trade in so-called 'legal highs', which, as this report shows, has tragically claimed the lives of far too many people in our country. We have already banned hundreds of these drugs and our Forensic Early Warning System allows us to closely monitor their availability so we can disrupt their supply. "I can today announce the membership of an expert-led review to look into how our current arrangements can be better tailored to help protect public health and further tighten the supply of such substances."
In many cases st udied by the NPSAD, traces of multiple legal highs were found, suggesting drug users are experimenting with combinations of these drugs, as well as alcohol in some cases. The report also indicates an increase in the proportion of deaths involving stimulants such as cocaine and ecstasy-type drugs, following a decline in 2009 and stabilisation in 2010. In total, the number of drug-related deaths reported to the NPSAD during 2012 was 1,613.
Opiates/opioids such as heroin and morphine, alone or in combination with other drugs continued to account for the highest proportion - 36% - of reported drug-related deaths in 2012. Ten ''legal highs'' were identified last year for the first time in the UK by a specialist Government system that targets music festivals and tobacco shops.
A total of 27 new psychoactive substances, also known as legal highs, have now been detected by the Home Office's Forensic Early Warning System since it was set up in January 2011. Office for National Statistics figures show that the number of deaths being linked to legal highs soared by 80% last year to 52, from 29 in 2011 - but this covers England and Wales only.