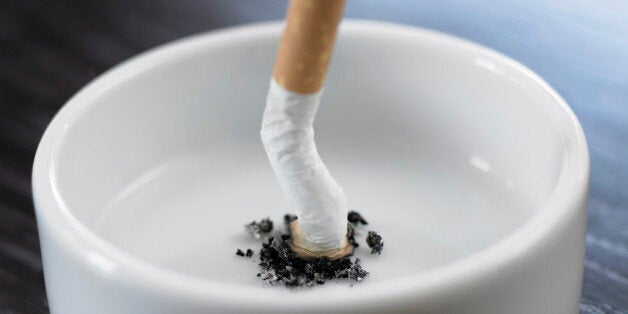 The number of adults smoking in England has fallen below 20% for the first time in probably 80 years, researchers have said. In a letter to the British Medical Journal (BMJ), experts from University College London said they hoped the figure would motivate more people to quit with the help of NHS stop smoking services.
Senior research fellow Jamie Brown and colleague Robert West, professor of health psychology, looked at the findings of a large national surveillance study which has been tracking smoking prevalence in England since 2006. They said looking at historical data together with these findings suggest less than a fifth of adults now smoke.
"For the first time in probably 80 years, smoking prevalence in England has fallen below 20%," they said. "Smoking was rare at the start of the 20th century but increased relentlessly until the publication of Smoking And Health in 1962, by which time over 70% of men and 40% of women smoked. The decline in prevalence started in the 1970s and has since averaged 0.6% a year. In 2013 it was slightly higher, at 0.8%."
The researchers said "much is still to be done", particularly around the fact people from lower socioeconomic groups are more likely to smoke.
"However, we hope that breaking the 20% barrier will motivate smoking cessation efforts across the country, including making more use of our stop smoking services," they said.
Also in the BMJ, Ruth Malone and colleagues from the University of California argued it is essential for the UK "to extend its focus beyond tobacco control to plan a tobacco-free future". They pointed to a major "lack of congruence between the way cigarettes are regulated and the regulation of many other dangerous products".
But they said "too many public health professionals remain fearful of even suggesting that to end the epidemic these products should, at some point, no longer be easy to buy". In a forthcoming report commissioned by Cancer Research UK, the researchers call on the UK to "undertake a serious effort to bring to an end the UK tobacco disease epidemic".
Even if smoking stopped in its entirety now, there would still be decades of high healthcare costs attributable to smoking, they say. And they say the UK fails to use mass media to "denormalise" the tobacco industry and its products. They conclude: "If the public health sector, including government, does not begin the endgame conversation, no one else will. For the sake of future generations we should start now."
Alison Cox, Cancer Research UK's head of tobacco policy, said: "It's very encouraging to see this snapshot of the number of smokers in England. Reassuringly, the figures are going down but it's vital to remember the many millions of people who remain addicted to a lethal product. Half of all long-term users will die from smoking.
"Reducing the numbers who smoke and the number of young people who start smoking must remain a focus. Plain, standardised packaging is key to protecting children from tobacco marketing. This week's votes in Parliament showed unprecedented support for tobacco control measures that will protect children from tobacco marketing and from second-hand smoke. We urge the Government to take the next steps to make standard packaging a reality as soon as possible."
Thembi Nkala, senior cardiac nurse at the British Heart Foundation, said: "It's fantastic to see the number of smokers in England finally drop below one fifth. However, there are still millions of smokers across the nation and smoking remains the number one cause of premature avoidable death in the UK.
"Quitting smoking is the single best thing you can do to protect your heart, but giving up without support can be daunting. If you want to stop smoking, don't keep it to yourself. Speak to your GP about NHS stop-smoking services, and tell your friends and family about your goal so they can support you."
Related