Hoping to escape poverty and political repression, tens of thousands of Eritrean refugees have fled their country in search of a better life.
Instead, thousands have been kidnapped and left languishing in camps in Egypt and Sudan over the last decade, where they were subjected to rape and violence by traffickers – often in collusion with state security forces.
Egyptian and Sudanese security officers have conspired with traffickers accused of holding the desperate migrants for ransom and torturing them, a shocking new report has said.
Victims accused the traffickers of raping both women and men, administering electric shocks and burning genitalia and other body parts with hot irons, boiling water and molten plastic, a rights group said.
Traffickers then demand ransom money to halt the torture, either from the refugees or from their relatives, who are forced to listen to their loved ones screaming down telephone lines, the report said.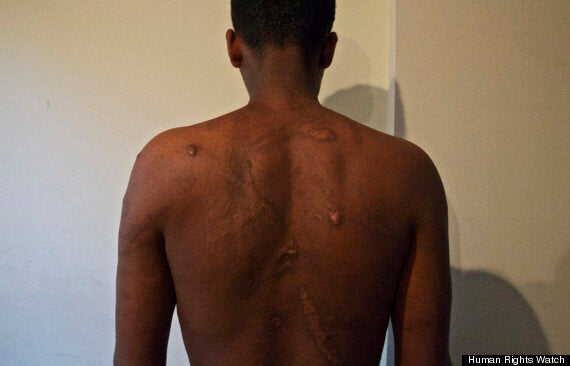 The loosely governed desert region stretching from eastern Sudan up through Egypt to the Sinai Peninsula is a major trafficking route for African migrants seeking jobs. Since 2004, more than 200,000 Eritreans have fled their home country—often with the help of traffickers.
"Both Egypt and Sudan need to put an end to torture and extortion of Eritreans on their territory, and to prosecute traffickers and any security officials colluding with them," Gerry Simpson, a senior refugee researcher for the group, said in a statement.
The report is based on the testimonies of 37 Eritreans interviewed by the international rights group and 22 others interviewed by a non-governmental organisation in Egypt.
"They beat me with a metal rod. They dripped molten plastic on my back. They beat the soles of my feet and then they forced me to stand for long periods of time, sometimes for days. Sometimes they threatened to kill me and put a gun to my head," one 23-year-old Eritrean man said in the report.
"They hung me from the ceiling so my legs couldn't reach the floor and they gave me electric shocks. One person died after they hung him from the ceiling for 24 hours. We watched him die.
"Whenever I called my relatives to ask them to pay, they burnt me with a hot iron rod so I would scream on the phone. We could not protect the women in our room: they just took them out, raped them, and brought them back."
Human Rights Watch said it had also spoken to two traffickers, one of whom admitted he tortured dozens of people.
"I know this money is haram [shameful], but I do it anyway," he said.
Eritreans told the rights group that Sudanese police in the remote eastern town of Kassala intercepted them near the border, arbitrarily detained them, and handed them over to traffickers, including at police stations.
Some of the victims also said they had seen Egyptian security officers colluding with traffickers at checkpoints, at the heavily-guarded Suez Canal and even in traffickers houses.
Rights group Amnesty International said in April that Eritrean refugees kidnapped in Sudan are raped, beaten, chained up and sometimes killed after being forcibly transported to Egypt's Sinai Peninsula, where they are held for ransom.