Recruitment figures from Romania have poured cold water on the notion that its citizens are desperate to move to Britain, and instead reveal how British businesses are wooing highly-skilled professionals from eastern Europe.
And UK firms have increased the number of jobs on offer to Romanians so dramatically that there was fewer than one applicant per job, on average, in January this year.
British employers offered more than 10,000 jobs to Romanians via recruiter Tjobs in the first month of 2014, the HuffPost UK has learnt, as the restrictions on Romanian and Bulgarian workers were lifted.
The figure is a 70% increase from January 2013, when just over 6,000 jobs were advertised.
The company represents over 200 Recruitment Agencies and 300,000 candidates across Romania. Romanians are seeing more job adverts from the UK, according to a top recruiter
And the adverts posted by British firms belie the refrain that eastern Europeans are coming to fill the low-waged, menial positions that Brits do not want to take.
Only 13.5% of the employment contracts offered so far in 2014 to Romanian workers are on temporary basis, the rest are either permanent or for long term, with the vast majority citing a preference for experienced staff.
Jobs currently being advertised to Romanians via Tjobs include intensive care nurses for a NHS hospital in Cambridge, and doctors for a new GP practice in Liverpool.
Romania's ambassador to the UK, Dr Ion Jinga, told HuffPost UK that the "increasing number of jobs advertised by British employers to Romanian citizens is a confirmation that Romanians are hard working people, highly appreciated for their skills and professional expertise and not least for their work ethic."
"The EU labour market has become increasingly competitive and every economy aims to attract bright brains and highly skilled workers."
"It's never made economic sense to demonise the skilled workers our health service needs or make life more difficult for them, as the Government has done with Eastern Europeans," the TUC's head of international and EU affairs Owen Tudor told HuffPost UK.
"And it's never made economic sense to travel halfway across Europe offering jobs that don't pay or are insecure.
"The Government needs to crack down on bad employers and rip-off landlords, and treat people fairly if they want to make a contribution by working hard and paying taxes, whether they were born here or not."
Labour MP Keith Vaz said that the figures were worrying: "The Government's aim to attract the brightest and best to Britain has been damaged by negative and unnecessary stories about Romanian nationals.
"We need to send a clear message out to our European Union partners that the UK is not closed for business."
Though Tjobs believe applications are now on the increase, their statistics show that last year had the lowest number of Romanians applying for jobs in the UK since 2010, just 62,000, compared to a high of 144,000 in 2011.
The UK, which received the most number of applications from Romanians of any country in Europe in 2010, 2011 and 2012, is no longer the most population destination for Romanian professionals.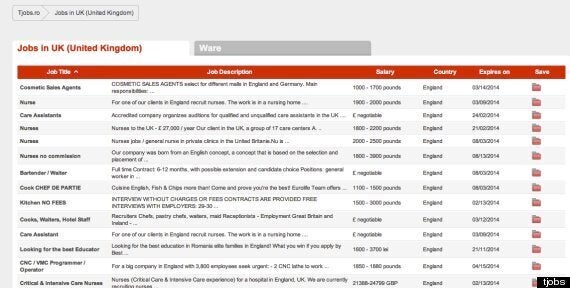 Some of the positions - many for experienced and qualified staff - advertised on the website
Germany is now the European country of choice.
Rob Wall, head of education and employment at the Confederation of British Industry, told HuffPost that the UK needed to continue being attractive to immigrants. "With EU citizens free to work across the 28 Member States, the UK must focus on being an attractive destination for the highly skilled migrant workers who can benefit our economy," he said.
The new stats also show that every year since 2010, the UK was the country to advertise the most jobs to Romanians. This year, the number jumped dramatically, with more than 4,000 more jobs in the UK offered to Romanians last month, compared to January last year.
Alp Mehmet, vice chairman of Migration Watch UK, would not comment on the specific figures, saying the thinktank's prediction of between 30,000 and 70,000 Romanians and Bulgarians to come to the UK over the next five years "remains our judgement."