An elderly man has been killed as winds of more than 100mph lashed Britain and heavy rain brought more flood misery for parts of the country. The Met Office has issued a "red" weather warning for exceptionally strong winds in western parts of Wales and north-western parts of England, while the Thames is predicted to rise to its highest level in more than 60 years in some places.
Police said a man in his 70s died in a suspected electrocution while attempting to move a tree which brought down power cables near Chippenham, Wiltshire.
On the day dubbed Wild Wednesday, gusts of 108mph hit Aberdaron on the Llyn Peninsula in north west Wales, while 96mph winds were recorded off the south coast of England at the Needles, on the Isle of Wight. The Met Office has forecast 2.75ins (70mm) of rain by Friday in the already-sodden West Country - more than the region would normally get in the whole of February - with south Wales, western Scotland, Northern Ireland and other parts of southern England also expected to bear the brunt of the deluge.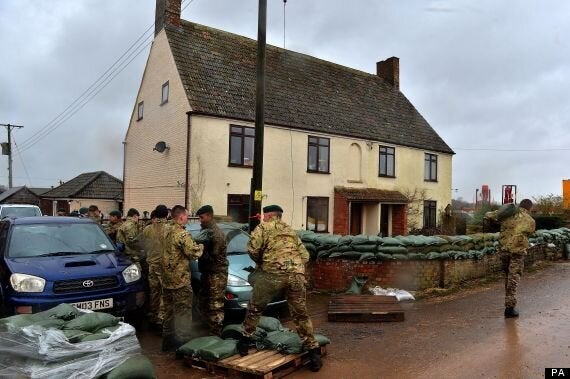 Royal Marines from Bravo Company helping local communities with flood relief efforts
Windsor, Maidenhead and communities in Surrey have been warned to expect severe disruption and risk of flooding. There are 14 severe flood warnings - meaning there is a danger to life - in the Thames Valley. Some 5,800 properties have now been flooded since early December when the series of winter storms began.
Major General Patrick Sanders, assistant chief of the defence staff, said troops were providing help with resilience, relief and additional manpower for what he described as an "almost unparalleled" natural crisis. "There's more that we can do and we want to do more wherever we can make a difference, so please use us, that's what we're here for," he said.
Another two severe flood warnings remain in place in Somerset, while the Environment Agency has more than 140 flood warnings and 280 less serious flood alerts in force across England and Wales. Road and rail travellers have endured another miserable day with wind and rain closing majorrtoutes and wrecking train services.
Virgin Trains took to Twitter to confirm all its services out of London Euston were suspended earlier, urging "all customers to abandon travel". Later Network Rail said some train services were running out of Euston station to Birmingham and Wolverhampton but with delays.
However there is no service on the West Coast main line north of Nuneaton due to "trees and overhead equipment coming down along the route", a spokeswoman said.
It is not known when services along the route will be resumed, she added. Problems have been reported at Lichfield near Stafford, Stoke, Crewe, Macclesfield and Stone, according to Network Rail. A spokesman for Cheshire Fire and Rescue Service said firefighters were called to Crewe train station after roof panels fell on to overhead lines and caused a small fire.
The station was evacuated as a "precaution" and trains were not stopping there, a Network Rail spokeswoman confirmed. The adverse weather also brought disruption to Premier League football fixtures. Manchester City's match against Sunderland and Everton's clash with Crystal Palace were both postponed just an hour before kick-off.
A lorry driver is in hospital after high winds blew over his vehicle in Bristol, while another man received treatment after becoming trapped under a fallen tree in Chivenor, Barnstaple, Devon. Surrey Police said around 1,000 homes in their area had been affected by flooding, with 600 people evacuated.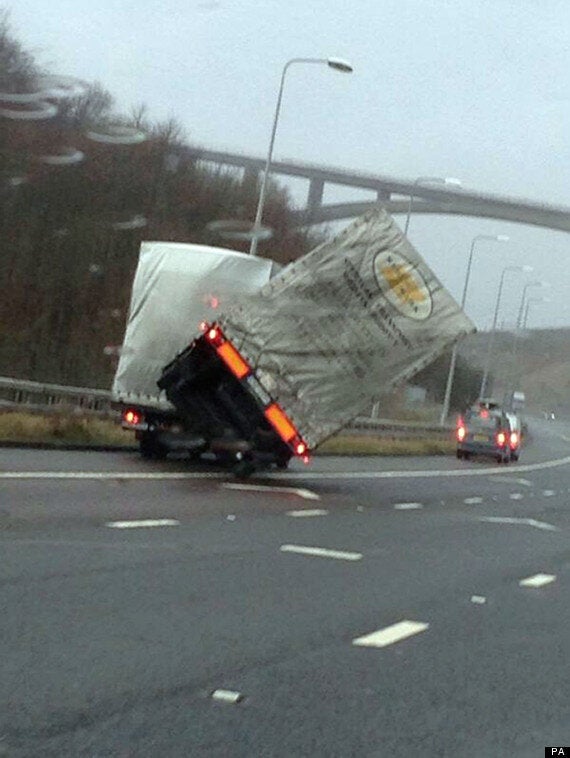 A lorry overturning on the M62 motorway at Scammoden water in West Yorkshire
With more rainfall forecast tonight, tomorrow and Friday, the threat of flooding is likely to increase over the next few days, with communities along the Thames in Oxfordshire, West Berkshire and Reading, and along the Severn in Worcestershire also at an increased risk. Coastal flooding could hit north west coasts and the Dorset coast tonight, while the threat of groundwater flooding continued in Hampshire, Kent and parts of London, the Environment Agency said.
Toby Willison, programme director, Environment Agency, said a number of rivers in the South East and South West, including areas of the Thames, were at their highest ever recorded levels. "This is an exceptional event, it was the highest rainfall in January since 1776 and we think it is likely December, January and February will be the highest for 250 years," he said.
Environment Agency staff had to be withdrawn from the flood-hit Wraysbury area of Berkshire following abuse by local people for a short time on Monday, but Mr Willison insisted the agency had people back on the ground and said the response to the floods was a "real team effort".
MeteoGroup said Capel Curig in North Wales had seen the UK's highest rainfall with 35mm recorded from 6am to 6pm today. County Derry in Northern Ireland recorded 1.3ins (33mm) of rainfall, while Dunkeswell Aerodrome in Dorset and parts of Cumbria saw 0.5ins (17mm) of rain over the same period. The Thames Valley has seen its third wettest winter since 1908, according to the University of Reading's Atmospheric Observatory.
It measured12.5ins ( 319.3 mm) of rain in the region since December 15 - compared with an average of 6.4ins (164.4mm) for December, January and February. Andrew Barrett, a storm expert at the University of Reading said: "It will be a miracle if this is not the wettest winter on the record - with yet more storms set to batter the UK over the coming days."
Prime Minister David Cameron will cut short his attendance at an international conference tomorrow to focus on dealing with the flooding. He had been due to speak at the London Conference on the Illegal Wildlife Trade, alongside the Prince of Wales and Duke of Cambridge. The new Cabinet committee on flood recovery will meet tomorrow, replacing a scheduled meeting of the full Cabinet.
Major General Sanders said 1,600 troops had been committed and thousands more were available if needed to help communities deal with flooding. Peter Holland, Chief Fire and Rescue Adviser, said all the country's fire and rescue services have been involved in supporting colleagues in the flooded areas. In the Somerset Levels alone 21 out of the country's 46 fire services had been involved in the major pumping operation to help clear flood waters.
The latest swathe of appalling weather to hit the UK comes as a Government minister warned there was no "blank cheque" to pay for repairing the damage of weeks of storms and floods that have affected parts of the country. Mr Cameron, who chaired a meeting of the Government's Cobra emergencies committee in 10 Downing Street, promised yesterday that "money is no object" in offering relief to those affected by the floods.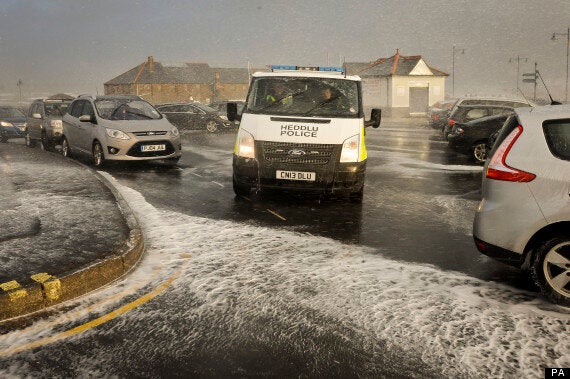 A police van makes its way through the sea spray and foam on the Esplanade, Porthcawl
But Transport Secretary Patrick McLoughlin indicated that there would be "careful consideration" before money is spent on the larger rebuilding exercise of restoring damaged infrastructure after water levels recede. "I don't think it's a blank cheque," Mr McLoughlin told ITV1's Daybreak. "I think what the Prime Minister was making very clear is that we are going to use every resource of the Government and money is not the issue while we are in this relief job, in the first instance, of trying to bring relief to those communities that are affected."
At Prime Minister's Questions Mr Cameron said grants of up to £5,000 will be available to businesses and homeowners hit by flooding to protect their properties better in future.
He also announced a £10 million fund for farmers whose land has been waterlogged for weeks and deferred tax payments and 100% business rate relief for affected businesses. Mr Cameron repeated his pledge that "money is no object in this relief effort" as he was questioned by Ed Miliband about the Transport Secretary's comments.
Northern Ireland was hit with gale force winds and torrential rain. Heavy snow left roads in the North West, especially the Glenshane Pass, in a treacherous state. Gusts of up to 90 mph were reported in coastal areas and emergency repair crews were on standby amid fears power supplies could be hit. Several roads were blocked by fallen trees, among them a northern bound stretch of the A1 between Banbridge and Dromore, Co.Down.