Downing Street has said the explosive devices set to army recruitment centres on Thursday bear the "hallmarks of Northern Ireland-related terrorism", with one of the packages stamped with a Republic of Ireland (RoI) postmark. In response to the deliveries, David Cameron chaired a meeting of the Government's Cobra emergencies committee on Thursday afternoon.
A spokesperson for No. 10 said: "Seven suspect packages have been identified as containing small, crude, but potentially viable devices bearing the hallmarks of Northern Ireland-related terrorism. These have now been safely dealt with by the police and bomb disposal units. Guidance has been issued to staff at all military establishments and Royal Mail asking them to be extra vigilant and to look out for any suspect packages and the screening procedures for mail to armed forces careers offices is being reviewed. The national threat level remains under constant review."
According to the South East Counter Terrorism Unit (SECTU), four devices were discovered at army careers centres in Canterbury, Oxford, Queensmere and Slough on Thursday, adding to the single package that was discovered on Wednesday in Aldershot, Hampshire and the two packages found on Tuesday in Reading, Berkshire and Chatham, Kent.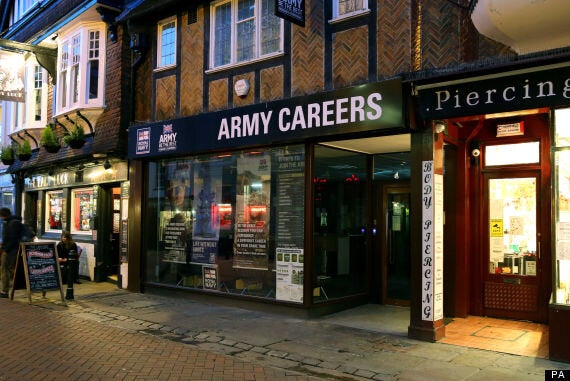 The Army Careers office in Canterbury, Kent
More from the Press Association:
The official threat level for Northern Ireland-related terrorism is set separately for Northern Ireland and Great Britain, that is, England, Wales and Scotland. In Northern Ireland it is "severe" and in Great Britain "moderate", meaning an attack is possible, but not likely. James Brokenshire MP, who recently took on the post of immigration minister but was previously security minister, was present at the Cobra meeting, which is also likely to have been attended by intelligence chiefs as well as Government officials and senior police officers.
Detective Superintendent Stan Gilmour, of Sectu, earlier said: ''The contents of the packages are suspicious in nature and will now be sent off for forensic examination. Even if the contents are determined to be a viable device, they pose a very low-level threat and are unlikely to cause significant harm or damage. When a suspect package is reported we have a routine response which means we may need to evacuate the area if necessary until we can be sure it poses no threat to the public. While this can cause concern and disruption for local communities, it is a necessary precaution until we know what we are dealing with.''
Advice has been sent to the Royal Mail and to the Ministry of Defence to ensure that staff ''remain vigilant'', Sectu added. The Queensmere shopping centre in Slough was temporarily evacuated, while cordons were placed close to all offices where packages have been found. A Ministry of Defence spokesman said security advice has been reiterated to its personnel, while the Royal Mail said it was co-operating with the police investigation.
It is understood that a suspected package found at RAF Mildenhall in Suffolk was a false alarm and is not related to the investigation at the armed forces recruitment offices. Sources in Dublin indicated that two of the seven low-grade explosive parcels were sent from the island of Ireland. The others, it is understood, were delivered from different locations within Britain. Although they were not sophisticated, they were described as viable.
While no group has yet to claim responsibility, it is believed dissident republicans opposed to the peace process are behind the intimidation attempt. In October last year dissident republicans opposed to the peace process were blamed for sending a series of letter bombs - thought to be similar to the devices found today - to high profile political and security figures in Northern Ireland. One of the devices was sent to the seat of power sharing executive at Stormont Castle in Belfast addressed to Northern Ireland Secretary Theresa Villiers.
Another bomb was delivered to the offices of the Public Prosecution Service in Londonderry while two explosive packages - one addressed to Police Service of Northern Ireland (PSNI) chief constable Matt Baggott and the other to one of his senior commanders - were intercepted at Royal Mail offices in Belfast and Lisburn. None of the devices exploded.
The spate of letter bombs marked the re-emergence of a terror tactic that was used by paramilitaries during the Troubles. Since 2009, violent republican extremists have murdered two soldiers, two policemen and one prison officer in Northern Ireland. Defence Secretary Philip Hammond told Iain Dale on LBC: "Those of us living in Great Britain on the mainland, it's a long while since we've seen Northern Ireland- related terrorist activity on the mainland, but of course for those living in Northern Ireland, this problem hasn't gone away and there has been a continuing drum beat, albeit of course at a much lower level than it was in the past, but a continuing drum beat of activity from dissident Republican organisations.
"I can assure you we haven't taken our eye off the ball. Northern Ireland remains very high on our list of security priorities and the various security authorities are very conscious of the fact that there is a continuing terrorist threat from dissident Republican organisations and that it could spill over into the UK mainland and we keep a very close watch on that."
Shadow Northern Ireland secretary Ivan Lewis said: "These devices bear the hallmarks of another attempt by dissidents to reverse the progress we have seen in Northern Ireland over the past 15 years. Their attempt to harm innocent people will be condemned by the people of Northern Ireland, including by those they claim to represent. We will give our support to the Government in taking the necessary steps to bring those responsible to justice."
Related