International students are suing a UK university after they were told they would no longer qualify for visa sponsorship.
Solicitors are due to appear in court next week on behalf of 60 students after they were informed by Glyndwr University they may not be able to continue studying in the UK.
The overseas students, who are taking two-to three-year accountancy programmes, were sponsored for immigration purposes by Glyndwr University but have been taught in the capital by the private London School of Business and Finance (LSBF).
The Home Office raised concerns over teaching arrangements for the students' course, which was paid for through tuition fees, while visa sponsorships were provided by the university to enable the students to work in the UK.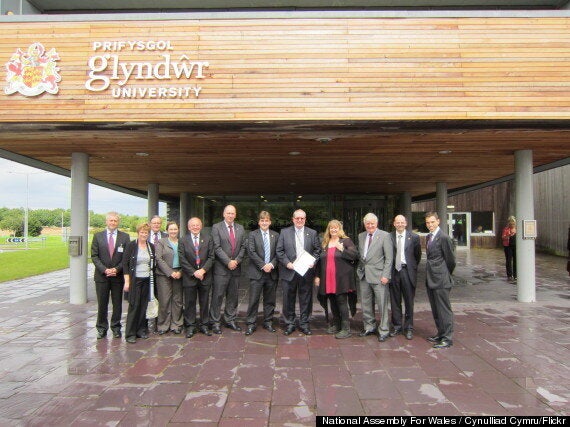 Glyndwr University in Wrexham
At the end of January, the university wrote to all 323 students on the accountancy course telling them teaching would no longer take place at the LSBF and that they were being transferred to the Welsh institution.
In order to remain on the course and qualify for sponsorship, the students were expected to maintain an attendance record of at least 80%, as well as signing up for three classes per semester.
However, the letter, obtained by the Times Higher Education, stated some students would still have to be interviewed by immigration lawyers Fragomen to ensure they met their visa requirements.
A spokesman from the institution told The Huffington Post UK: "Glyndwr University takes its responsibility as a Highly Trusted Sponsor very seriously."
The institution said it is "committed to supporting the continuing education of those genuine international students who demonstrate full compliance with their immigration requirements through good academic progress, regular attendance and the intention and ability to complete their courses on time".
HuffPost UK was informed Capital Solicitors would be representing 60 students who say their sponsorship has been withdrawn.
Syed Ahmed, of Capital Solicitors, told THE students were demanding the reinstatement of their sponsorship and for teaching to resume. They were also seeking damages over their treatment by Glyndwr.
He added students had already paid their tuition fees for the entire course. He said they had been treated "so badly" by the university that legal action was necessary.
After being taken the the High Court, the university has now been prevented from revoking sponsorship until the case is resolved.
Shaista Kalim, also from Capital Solicitors, informed HuffPost UK solicitors will return to court on February 20.
However, the university can confirm it has had an injunction placed upon it and "is vigorously defending its actions".
In a statement to HuffPost UK, the Home Office said that it "works with institutions to ensure their processes are up to standards".
However, any decisions to remove visa sponsorship is left up to Glyndwr University.
The Home Office added: "As part of our work with educational establishments we often make recommendations to assist sponsors meet their responsibilities relating to Tier 4", which allows international students to study in the UK provided they can prove that they have a place on a course and can afford the fees.
CORRECTION: We previously stated 323 students were suing the university and were being transferred to the Wrexham-based campus in London. These inaccuracies have since been corrected.