One pedestrian had a lucky escape outside Manchester City's Etihad Stadium when a programme stall blew over during a mini gale.
However, it turned out to be the Guardian's Manchester football correspondent, Jamie Jackson, who was fleeing the ground after the match was postponed.
Everton's home fixture with Crystal Palace was also called off due to damage to a nearby building caused by the adverse weather in the north-west.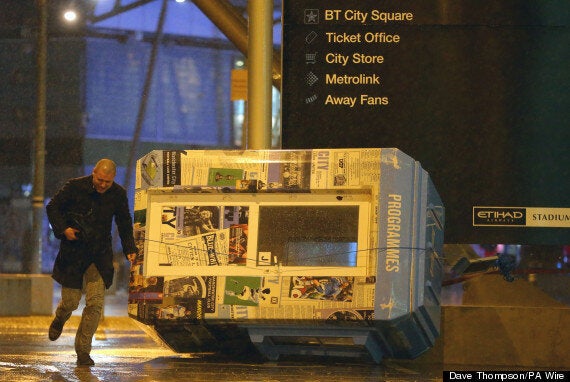 Guardian journalist Jamie Jackson rushes past an upended programme stall
The managers of City and Everton, Manuel Pellegrini and Roberto Martinez, gave their full backing to the authorities after their respective matches were called off due to severe weather causing major disruption across the north west.
Earlier on Wednesday the Met Office issued red warnings - the highest possible - for parts of Wales and north west England in the evening.
Gusts reaching 80-100mph battered the affected regions with heavy rain also playing havoc as trees fell and roads flooded to make travelling even short distances a dangerous undertaking for football fans.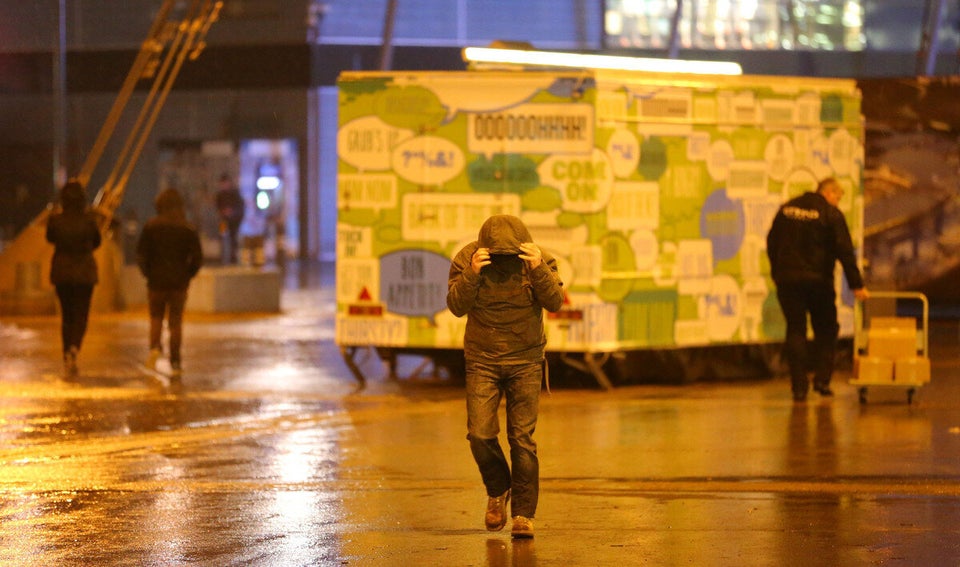 Weather wreaks havoc at Premier League
City were preparing to welcome Sunderland to the Etihad Stadium but, with just over one hour to go before the scheduled 1945 kick-off, the club announced the fixture would not go ahead.
In a statement published on the club's official website, it was explained how the safety officer and Greater Manchester Police had cited "exceptional and escalating weather conditions" when reaching their decision to postpone the match.
It was also noted that "an unused programme booth blew over and part of a wall was also damaged".
City manager Pellegrini later said the decision was a sensible one.