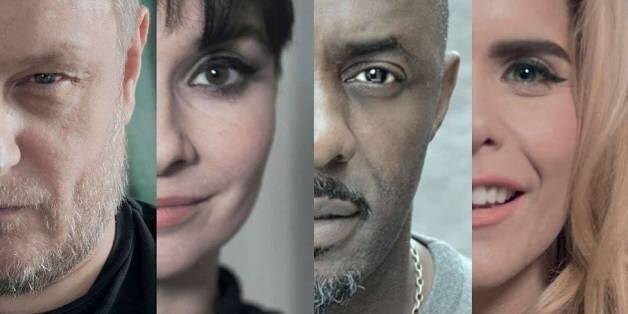 Four UK celebrities team up with global tech company to help real people unleash their potential. Visit www.launchingpeople.co.uk for more details.
Are you a budding musician, filmmaker, photographer or chef with a burning desire to share your talent and creative ideas with the world?
Well now's your chance to do just that with a little help from the likes of Idris Elba and Paloma Faith.
Samsung has joined forces with some of the UK's hottest talent who will act as mentors as they help food lovers, musical game-changers, aspiring directors and snappers launch their brilliant ideas.
'Launching People' will see pop-up chef and Sunday Times cook Gizzi Erskine, award-winning actor and producer Idris Elba, singer-songwriter Paloma Faith and portrait and fashion photographer Rankin search for undiscovered British and Irish talent and help give them the opportunity of a lifetime.
The chosen candidates will work with one of the four inspirational mentors to collaborate on a unique project, all of which will be filmed for a television series that will air later this year.
So, if you've got a great idea and think you have what it takes to impress the panel of mentors, head to www.launchingpeople.co.uk between now and Thursday 6 March and pitch your project.
Gizzie, Idris, Paloma and Rankin will each choose one person to work with one-on-one, helping to bring your ideas to life.
Speaking about the project, Idris said: "I'm looking for someone that wants to tell a story and inspire others. If I represent anything, it's someone who dreamed big and achieved those dreams."
Meanwhile, Paloma Faith says she's looking for something truly original.
"I'm really looking for something that we've not seen in a British artist before," she said "What's important to me is that the person has something innovative to offer."
On the food front, chef Gizzi Erskine says she's on the look out for a 'passionate rule-breaker'.
"I want to see someone who has a serious passion for the industry. I'm looking for someone who's happy to break the rules - and maybe teach me a thing or two along the way."
And photographer to the stars Rankin will be searching for a visionary snapper, saying: "I'm looking for someone that's got a vision, a creative eye… I want to know what they do that's different, that's interesting and for them to show me an idea that is unique."
To apply, you need to make a two minute video pitch all about your idea and upload it to www.launchingpeople.co.uk. Good luck!