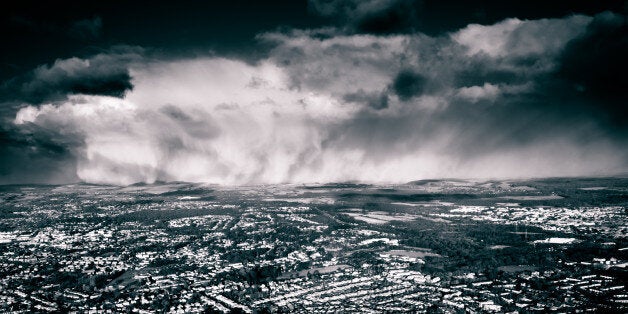 Thirty-two people were rescued from a beachfront restaurant after it was pelted by storm-blown shingle and flooded.
Lymington Coastguard, fire service and the Army were called to help diners who were stranded on the first floor of the Marine Restaurant in Milford on Sea, Hampshire, at 10pm yesterday.
Customers moved up to the first floor after shingle blown by hurricane-force winds smashed through windows and the sea surged in.
But more debris from the beach shattered windows there and they had to wait to be rescued. They were eventually carried to safety by six-wheel-drive Army vehicles, which were also damaged in the storm.
Hampshire Police said no-one was seriously injured.
Stephen Caunter, the restaurant's general manager, told Sky News that most of the vehicles in the car park were washed away, under water or written off, and feared they would have to cancel wedding bookings.
James McCrossan, a chef at the restaurant, said: "The wind was just smashing against the windows. It almost looked like the windows were bending.
"The outside of the windows started smashing. There was glass everywhere, it wasn't safe for anyone. It's like I never seen before and, touch wood, I hope never to see it again."
Karen Bosman, from Lymington Coastguard, said they sent a rescue team out after a request for help from the fire service.
She told BBC Breakfast: "What had happened was, while they were eating, we had some freak waves which picked up the shingle, and the shingle was thrown against the window, smashed the windows and of course flooded the ground floor.
"The people took to the first floor where they were waiting for rescue. When our coastguard got there, they were just making sure everybody was safe when the first-floor windows were also hit by a freak wave and shingle, and those windows were also stoved in by the weather."
Ms Bosman said she had never seen weather conditions like it.
She said: "The sustained ferocity I have never seen in my experience. Last night we were getting gusts of 69 knots while this was occurring, and 69 knots is hurricane-force winds.
"I have never seen that in the Solent before."