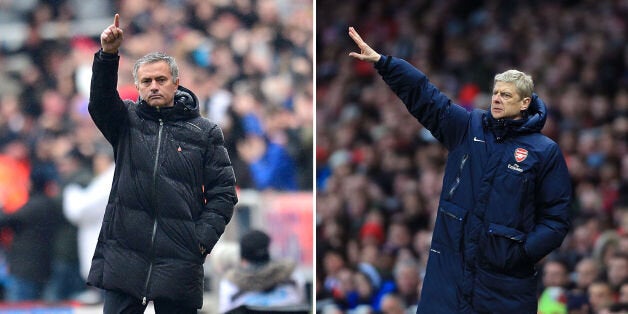 Wenger oversaw Arsenal's 2-1 defeat of Liverpool to set up an FA Cup quarter-final home tie with Everton next month after Chelsea were ejected from the competition by Manchester City yesterday.
The Gunners' victory went some way to atoning for their 5-1 battering at Anfield last week, but Wenger was inevitably asked to respond to Mourinho's withering comments two days ago.
"I'm embarrassed for him. Honestly," Wenger said. "I didn't speak about him at all at my press conference and I have no more to say. I'm more disappointed for Chelsea than for me.
"I'm not interested in the subject at all, and that is genuine. If you are interested and you have nothing better to do in your life you are free to do it. But, honestly, I cannot force my interest in things that are not interesting to me.
"I love football, and I'm sorry to disappoint you, but what interests me is what happens on the pitch."
Wenger was also briefly drawn onto Olivier Giroud's Twitter confession, in which he appeared to apologise for having an affair.
Giroud was dropped to the substitutes' bench at the expense of full debutant Yaya Sanogo, although Wednesday's Champions League date with Bayern Munich at the Emirates Stadium partly dictated Wenger's team selection.
"He looked a bit tired recently and I know where you want to lead me," Wenger replied to laughter, "slowly but surely. He has made a statement and for the rest we will deal with it internally. I don't think there is very much more to add to that because I want to respect his privacy, as well."