Cate Blanchett dodged the whole Woody Allen abuse claim debacle when she went on stage to collect her BAFTA Award, instead dedicating her win to lost friend Philip Seymour Hoffman.
Woody Allen's Awards Seasons hopes received a boost at BAFTA, when Cate was awarded Best Actress for her role in his film 'Blue Jasmine'.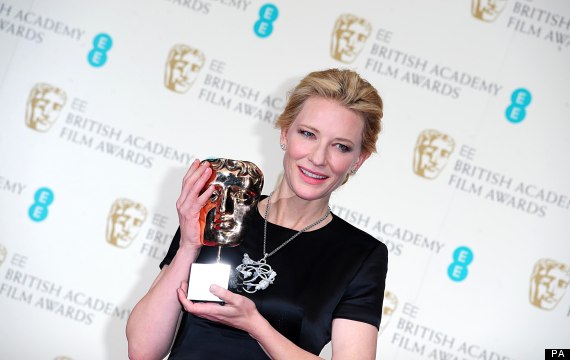 Cate Blanchett won her Award for her role in 'Blue Jasmine'
The film has been overshadowed by accusations in print by Woody Allen's estranged daughter Dylan that he abused her when she was a child. She wrote that she had been prompted to speak out after hearing Woody being lauded at the Golden Globe Awards by his former partner, Diane Keaton.
Cate Blanchett, who has previously spoken only of her sympathy for the whole family, was in a tight spot as the winner of the award, risking offending someone, whether she thanked her director or not.
But, as the winner In arguably the most tightly-contested category of the night, she effectively sidestepped all that by instead dedicating her award to her 'Talented Mr Ripley' co-star, who died a fortnight ago after a drugs overdose.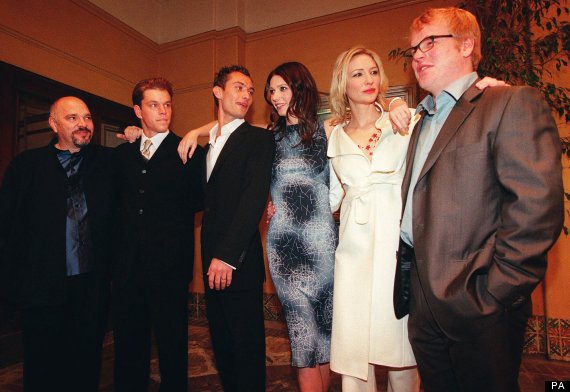 Cate Blanchett and Philip Seymour Hoffman (right) with the rest of the cast of 'The Talented Mr Ripley'
"I would like to dedicate this to an actor who has been a continual profound touchstone for me, a monumental presence who is now very sadly missed - the late, great Philip Seymour Hoffman," she told the London audience.
"You raised the bar continually so very, very high, and all we can do in your absence is continue to raise the bar in our work.
"Phil, buddy, this is for you, you bastard, I hope you're proud."
Cate beat Amy Adams, Emma Thompson, Sandra Bullock and Dame Judi Dench in her category.
CLICK HERE FOR A FULL LIST OF ALL THE BAFTA AWARDS WINNERS 2014
LIKE US ON FACEBOOK | FOLLOW US ON TWITTER