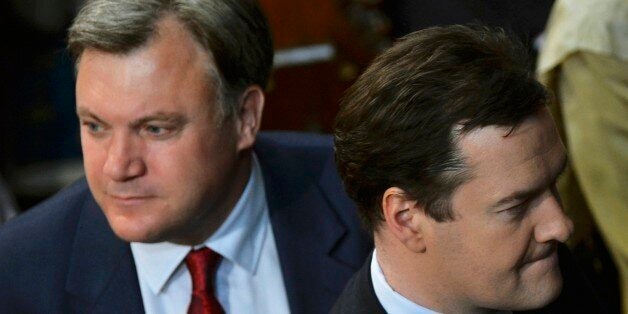 Ed Balls will be haunted by his decision to back George Osborne's decision to rule out any prospect of an independent Scotland keeping the pound in a currency union, Alex Salmond has warned.
"It is a sign of just how out of touch and arrogant the Westminster establishment has become, and that isn't just the Conservative party, although with experience we've come to expect it from that particular quarter," he declared in a speech.
"But the sight of a Labour shadow chancellor reading from a script prepared by George Osborne was too much to bear for many Labour supporters in Scotland. For Alistair Darling's former election agent, it was the straw that broke the camel's back and made him declare for a Yes vote.
"I predict that moment will prove to be one of Westminster Labour's biggest misjudgements. Siding with the man who's intent on dismantling the post-war welfare state and imposing permanent austerity will haunt the two Eds. Mr Osborne's speech and the reaction of the Labour party at Westminster will have reignited the independence debate in many, many people's eyes."
He warned that Balls and Labour leader Ed Miliband's support for Osborne's attack on Scottish independence would disappoint many Scottish Labour members.
Salmond's remarks come after former Labour First Minister Henry McLeish recently criticised the "relentless negativity of the No campaign", with Labour MP Austin Mitchell warning the main three parties to stop "alternatively threatening and patronising Scotland'.
Alex Salmond dismissed George Osborne's "ill-thought out and misinformed" attack on Scotland's plans for a currency union, adding that: "The rest of the UK will never be foreign."
Salmond claimed that polls and phone-in shows after Osborne's speech showed that Westminster politicians had "badly misread the nature of Scotland".
"To be told that we have no rights to assets jointly built up is as insulting as it is demeaning. To be told there are things we can't do will certainly elicit a Scottish response that is as resolute as it is uncomfortable to the No campaign – it is 'yes we can'," he said.
Speaking last week, George Osborne said he could not "as chancellor recommend that we share the pound with Scotland."
He added: "The evidence shows that it would not work and it would cost money and it would not provide economic security for the rest of the United Kingdom."
Ed Balls threw Labour's weight behind the Chancellor's attack, saying: "What we have now seen after the turbulence of the last few years [of the euro] is that this [a single currency] is this a pretty unattractive prospect for Scotland."
"More than that it would require joining a more onerous banking union, a big fiscal union, political integration."