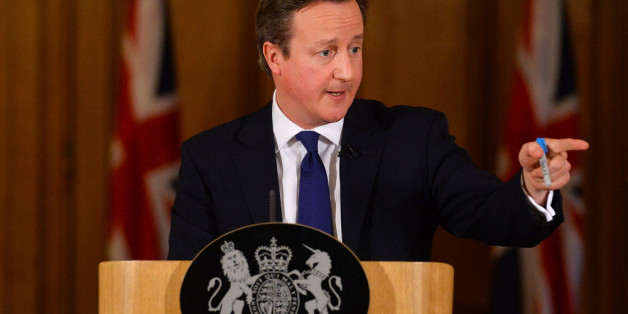 WPA Pool via Getty Images
The Conservative Party is still viewed as a "racist party" by a large number ethnic minority voters, one of the party's Asian parliamentary candidates has said.
Afzal Amin, the Conservative parliamentary candidate for Dudley North, told The Huffington Post UK that securing the support of non-White Britons was "critical" to ensuring the party won a majority in 2015.
Amin is hoping to unseat Labour MP Ian Austin, who has a majority of just 649. Dudley North is number nine on the list of seats the Tories need to capture at the next election.
The former British Army officer, who served in the military for 11 years, said while the Conservatives had the right policies - there had been a "key failing" in how it got its message across. "We need to further improve, as the population changes, how we communicate," he said.
"We need to recognise that people like me … we are not foreigners, we are not immigrants, we haven't come from somewhere else, we are from here. The party needs to speak to us as British people and not as people from abroad."
"We may have healthier tans but we are British through and through. The party needs to change significantly how it relates to black and minority people."
Amin said that among ethnic minority voters in Dudley North "the general perception is that the Conservative party is a racist party"
He highlighted the Home Office's 'Go Home' anti-illegal immigration vans was one communication failure. "It communicates to British people who had come here after WWII that somewhere they weren't welcome," he said. "That was a communications failure, it wasn't a policy failure."
The former Army officer stressed the failure to communicate was not a problem unique to the Conservatives, but urged the party leadership to make sure it got ahead of the game. He said in order to gain the votes of minorities, the Tories needed to engage with them and have "much more of a presence" in those communities.
Amin said he believed the party was going through a "positive transition" to address the issue and was not "negative" about the direction of travel.
However he said the party should reject positive discrimination to get more ethnic minority Tory MPs elected. "I have never been giving anything because of my skin colour," he said. "Which I think is a good thing."
On Monday, in the Financial Times one unnamed cabinet minister described the lack of support for the party from ethnic minority voters as the "biggest challenge" it faces in the run-up to 2015.
In the 2010 the Conservative Party only won 16% of the ethnic minority vote. At the last election there were 27 MPs from an ethnic minority - 11 of them were Conservatives. In 2005 there were only two Tory MPs from ethnic minority backgrounds elected.
Last year one of those Tory MPs, Nadhim Zahawi, who is seen as close to the prime minister, said the party needed to do more to attract votes from non-white Britons.
"Ethnic minorities make up eight per cent of the electorate, a figure which is on an upward trend and predicted to grow to at least 20 per cent by 2051," he said.
"More importantly, we cannot claim to be the Conservative and Unionist Party if large numbers of non-white Britons continue to believe we aren't capable of representing them."