ome of Hollywood's leading actors were left starstruck by the Queen after she hosted a night in celebration of the UK's dramatic arts.
The Buckingham Palace event featured a who's who of leading film makers, entertainers and thespians from directors Steve McQueen and Mike Leigh to actors Sir Roger Moore, Joan Collins and Alan Rickman, and writers Sir Tom Stoppard and Alan Bennett.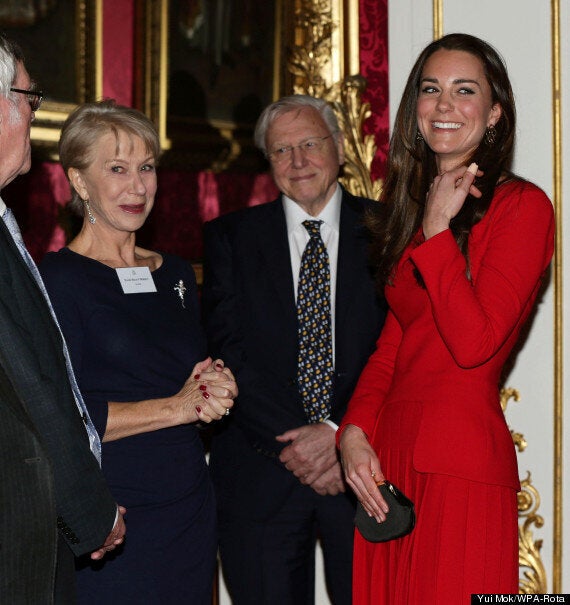 The Duchess of Cambridge joked how Prince William called Helen Mirren 'granny'
Also welcomed to the Queen's London home were John Hurt, Michael Sheen, Ralph Fiennes and Sir Michael Gambon, Jane Horrocks, Angela Lansbury, Helena Bonham Carter and comics Harry Hill and Lenny Henry.
The night was hosted by the Queen in her capacity as patron of the Royal Academy of Dramatic Art (Rada) and the Duchess of Cambridge joined her for the evening wearing a striking red Alexander McQueen dress.
Dame Helen Mirren, famed for playing the Queen on stage and screen, admitted to still being in awe of her despite meeting her a number of times.
But she was not alone, Uma Thurman and Gemma Arterton also found themselves overwhelmed by meeting the monarch.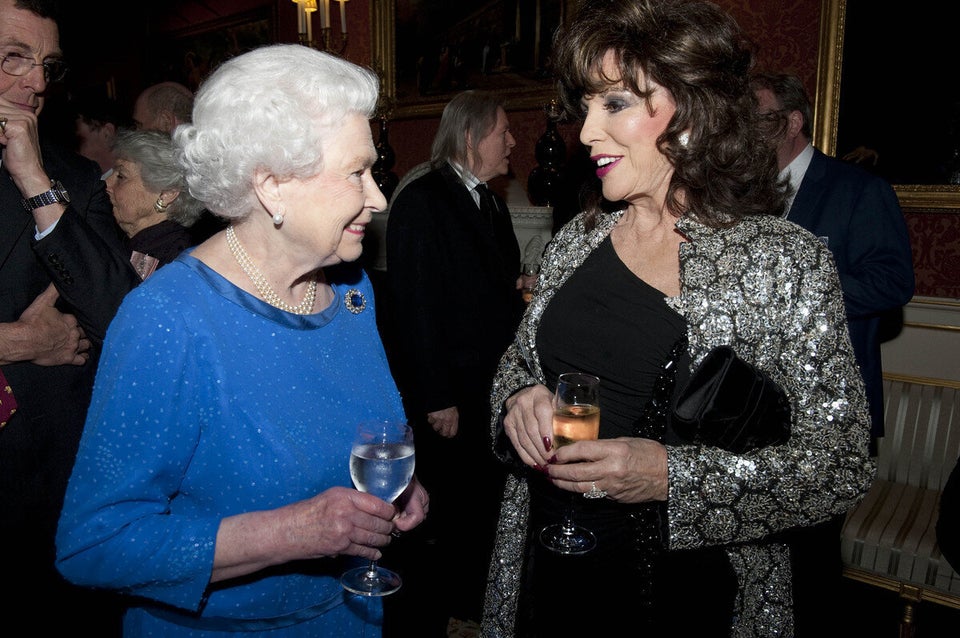 Buckingham Palace reception for the dramatic arts
Speaking about being introduced to the head of state Dame Helen said: "You're thinking 'its the Queen it's the Queen'," and when asked if she still got starstruck replied: "Of course, even more so I think because I feel self conscious, you know."
She added: "I am genuinely always astounded by her aura, her twinkle, her presence. It never fails to surprise me and again it's what everyone says when they meet her - it was what overwhelmed me the first time I met her."
Dame Helen was presented with an honorary fellowship award by the Duke of Cambridge at the Baftas last night and William joked about her portraying the Queen describing the performer as "an extremely talented British actress who I should probably call granny".
Speaking about her conversation with Kate, the actress said: "She said 'my husband called you granny last night' and I said 'yes that was so sweet'."
Hollywood star Thurman famed for her roles in a string of Quentin Tarantino films said about the Queen: "I have met some members of the royal family but never met Her Majesty - it was so overwhelming, it happened very quickly."
Arterton, a former Bond girl, said her parents were excited about her meeting the monarch and curtseying for the Queen was experience enough.
She said: "I've met everyone but the Queen, now I've got the full set."
Related