Hot on the kitten heels of Barbie's controversial Sports Illustrated cover comes a new breed of the iconic doll - Entrepreneur Barbie.
Naturally she's dressed in a hot pink, uber tight business-style dress. (This is Barbie, after all.)
American toy company, Mattel introduced Entrepreneur Barbie for its 'I can be' line at the American International Toy Fair in New York.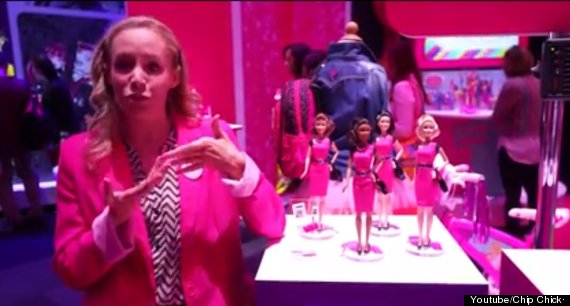 "We always try to make career Barbie a reflection of the times," said Mattel spokeswoman Michelle Chidoni. "Women entrepreneurs are more prevalent now and they're growing in number. It's a great way to encourage girls to also learn about this role."
We're all for inspiring the future women in business but does she really have to dress in this way?
"Successful entrepreneurs are clever, canny and hard working," says Tamsin Kelly, editor of Parentdish.co.uk.
"But I've never met a successful woman, who started her own company teetering around in a tight candy pink dress.
"Entrepreneur Barbie is a strange Fifties throwback, she doesn't come from the real world. Thankfully, today's female entrepreneurs don't have to pander to some comical 'business wear' ideal."
See Also:

How To Get Girls To Become Engineers - Toy Company Inspires Little Girls To Think Beyond Princess

Girls Say No To Sexist Pink Toys. We Give Them A Virtual High Five
We're happy that Barbie is trying her hand an entrepreneurship. But as MyDaily's Ellen Stewart says: "Whatever her chosen career path, let's hope she ends up earning more than Ken."
Entrepreneur Barbie is available in four ethnicities and goes on sale in June. The doll will retail for $12.99 (£7.80), according to CNN.
What do you think of the doll? Let us know in the comments below...