Sandi Toksvig is stepping into the shoes of William G Stewart for the revamped version of 'Fifteen to One'.
Channel 4 are bringing back the popular daytime quiz show, and HuffPostUK's visit to the set to watch an episode being recorded, has proved that the show's simple formula is as appealing as it ever was, with a green room full of jouranalists shouting answers to the questions, and rooting for their favourite contestants.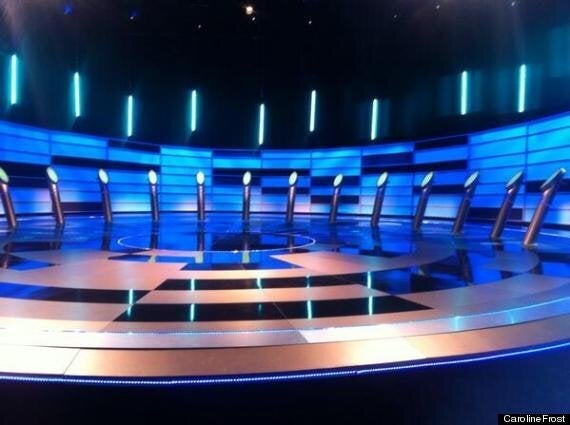 The new 'Fifteen To One' set at Elstree Studios
The set - a semi-circle of 15 podiums, each with three green lives luminated. The poor fellas who lose all three lives see their lights go out, and have to stand in the dark until the end of the round.
The formula - 15 contestants whittled down to 3, answering tough general knowledge questions, nominating other contestants during the second round, and substituting lives for points as the final three battle for a place on the leaderboard, and a place in the series final.
It's Sandi Toksvig, warm with the contestants but also obviously knowledgeable.
Contestants who go out in the very first round, get another bite at the apple, with the chance to appear in the next show being recorded, to see if their luck changes.
Will you be tuning in? And let us know what other show you'd like to see back on screen...
'Fifteen to One' originally ran from 4 January 1988 to 19 December 2003 and had a reputation for being one of the toughest quizzes on TV.
The show saw more than 30,000 contestants participating during its long run, and was presented throughout that time by William G Stewart, whose production company Regent also made the programme.
'Fifteen to One' is due to be back on screen in May. We'll be bringing you more details nearer the time.