Protesters with taped mouths gathered outside the Egyptian embassy in London on Wednesday, calling for the immediate release of detained journalists and a return to press freedom in Egypt.
It follows the arrest of 20 journalists by Egyptian authorities on charges of terrorism and representatives from the NUJ will be meeting the British ambassador to campaign for their release.
Demonstrators held placards and taped over their mouths during the protest held by the National Union of Journalists (NUJ).
Story continues after slideshow...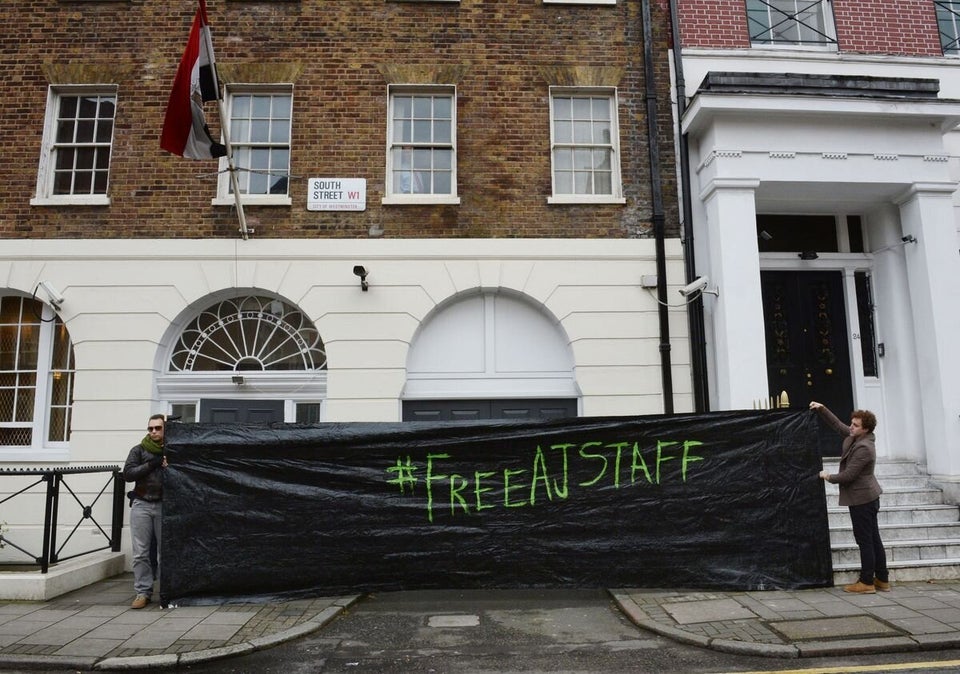 NUJ Protest
Among the detained is former BBC journalist Peter Greste, who was detained in a hotel working in Cairo along with two colleagues from Al Jazeera. Four of the detained, including Greste, are due to appear in court in Cairo tomorrow.
Former Channel 4 presenter Sue Turton, who also works for Al Jazeera, is one of 20 wanted journalists who are accused by the Egyptian authorities of aiding and abetting terrorists. Of the 20, nine are Al Jazeera staff.
Turton described Greste as a "measured and balanced journalist" and called on the judges to do the right thing and release them after 53 days of detention.
She said: "We are trying to show the Egytian government we are all watching and we're all journalists concerned with releasing our guys and press freedom for all journalists, foreign and domestic."
More than 38,000 people have signed a petition started by Mr Greste's parents, and the global campaign movement Avaaz.
The petition will be handed in to the Egyptian government before the trial begins tomorrow. If found guilty, Greste could face seven years in prison.
His parents, Juris and Lois, said: "Our son Peter has been in jail for 50 days awaiting trial for his work as a journalist.
"We sincerely believe he has done nothing wrong and is not a supporter of terrorism. We humbly request the Egyptian authorities show compassion for our son and ensure this early release.
"We are so grateful for all the support we've received from around Australia. The extent of outpouring has been overwhelming, and we hope it helps Peter walk free."
Avaaz campaign director Oliver MacCol said: "Thousands of people have been inspired by the Greste family's plea for their son to be released and have rallied in support. The eyes of the world are now on Egypt hoping Peter and his colleagues can finally walk free."
The other journalists from Al Jazeera English under detention along with Mr Greste are Mohammed Fadel Fahmy and Baher Mohammed. Their colleague Abdullah Al Shami, of Al Jazeera Arabic, has been detained since August 14 and is in the third week of a hunger strike, the NUJ said.
Union general secretary Michelle Stanistreet said: "When I go in to see the ambassador shortly I'll be handing in a letter of protest from the NUJ making it quite clear the we expect the Egyptian authorities to put a halt immediately to the trial of Al Jazeera journalists which starts tomorrow and sees colleagues facing up to 15 years imprisonment.
"All journalists working out of the country at the moment are facing a crackdown which is stopping them from doing their job well. It's an incredible testament to all journalists that they are carrying on in the face of increasing pressure that is stopping them from carrying out their work."