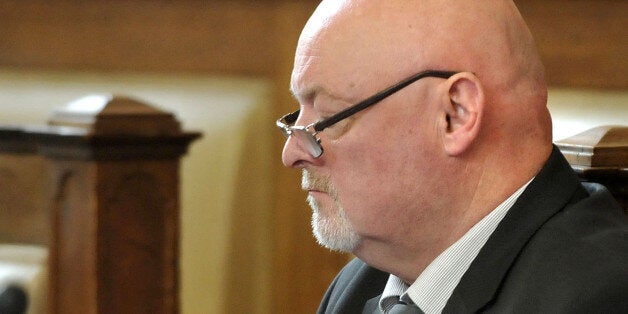 Ukip is under mounting pressure to kick Cambridgeshire councillor Peter Lagoda out of the party and remove the whip from him outright for his "deeply offensive" remarks when speaking to firefighters.
"Yes, my cousin married Mongols and now all their little children are ever so cute and they have slanty eyes," Lagoda said in a telephone interview.
Cllr Lagoda's remarks during his visit to the fire station in January alongside current Ukip councillor Paul Clapp caused one of the firefighters to lodge an official complaint about being left feeling "uncomfortable".
"I... should have challenged that language but thought it may be a generation thing and hopefully he wouldn't repeat this type of language and I did not want to get into any arguments," the firefighter wrote.
Labour MEP Richard Howitt criticised Ukip's failure to kick out Cllr Lagoda for his "deeply offensive" and "very shocking' remarks, which he said "cries out loud about the true nature of the party."
Cllr Martin Curtis, head of the Conservative group on Cambridgeshire council insisted that Lagoda remained active within Ukip.
Cllr Paul Bullen, head of the Ukip grouping on Cambridgeshire council, refused to say whether the party would take any further action against the suspended councillor as he is "currently the subject of a complaint which is being investigated by the County Council."
Despite being forced by the local Ukip group to write a letter of apology to the firefighters after his visit last month, Cllr Lagoda insisted that the furore was "ridiculous, over-the-top" and that the letter "shouldn't have gone out".
The Wisbech councillor, who is still listed as representing Ukip on the council website and remains a Ukip member, defended his remarks as the correct dictionary definitions and accused the firefighters of misunderstanding him.
Ukip councillor Paul Clapp, who was present with Lagoda on his fire station visit, told the Cambridgeshire Times that he only heard the part of the conversation that referenced Mongols.
"I'm not sure the fire fighter realised Peter's nationality," he said. "Me and Peter go round in twos because allegations of this nature are made quite often. At the end of the day Peter did say it was a private conversation."
A Ukip spokesperson stressed that the party takes the incident "very seriously indeed" but made clear: "Councillor Lagoda was suspended from the party before this incident occurred. He is not an acting councillor for Ukip now and he was not an acting councillor for UKIP at the time of this incident."