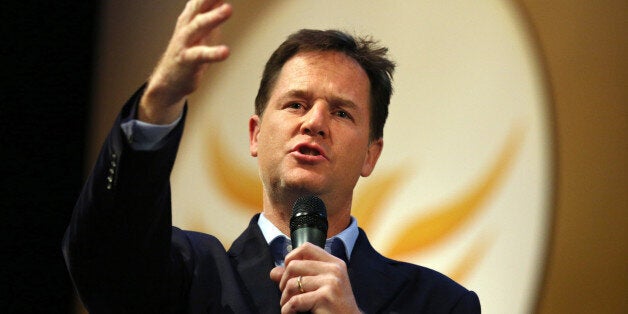 Nick Clegg may have to face down a grassroots Liberal Democrat rebellion over plans to double how long migrants from EU countries have to wait to claim 'out of work' benefits.
The clash is set to occur at the party's spring conference next month as members debate whether to adopt a new measure to bar EU migrants from claiming benefits for six months after arriving in Britain, which the Times reports has Clegg's backing.
LIberal Democrat MEP Graham Watson told HuffPostUK: "We must not forget that 2.2 million UK citizens live and work on the continent and that many UK employers rely on EU immigration to run their businesses."
Gareth Epps, co-chair of the Social Liberal Forum internal pressure group, said that he was concerned about the proposal in the party paper "Making Migration Work for Britain".
"I'm concerned that if you disentitle people to the basic necessities of life then you end up with destitution and the state inevitably picking up the tab inevitably anyway."
If the measure is adopted as party policy, it will inevitably pile pressure on David Cameron to go further in limiting EU migrants' rights to claim benefits in Britain, a move supported by some Tories like London Mayor Boris Johnson.
However, Epps warned that the push for such a measure indicated that the Liberal Democrat leadership was ignoring the party's "values".
"There's a part of the party leadership here that is being led here by public opinion rather than the judgement based on values."
The Lib Dem proposal reads: "We propose a six-month waiting time for EU migrants to claim out of work benefits.
"Of course we remain strongly the only 'party of in' the European Union and champions of the clear economic benefits it brings."
The government introduced a three-month waiting period for EU migrants at the start of the year in response to fears of the amount of potential migrants from Bulgaria and Romania, as well as easing concerns among Tory backbenchers of uncontrolled EU migration.
Labour has hinted that it could curb the number of EU migrants coming to Britain without a firm job offer, with shadow business secretary Chuka Umunna warning: "The founders of the European Union had in mind free movement of workers, not free movement of jobseekers. And undoubtedly we do have to work with our European partners to deal with that."
However the idea was dismissed by senior Labour MP Mark Hendrick as "superfluous".
Related