At the top of their agenda is a push to get doctors to review the way they assess them. The magazine says that they have discovered "some women are even waiting up to two years for treatment and many are refused care on the basis that they just aren't ill enough."
They are asking people to visit the website Cosmopolitan.co.uk/GP where they will find an open letter to their doctor asking them to review the way they assess eating disorders. It's urging people to print the letter out and send it to their GP.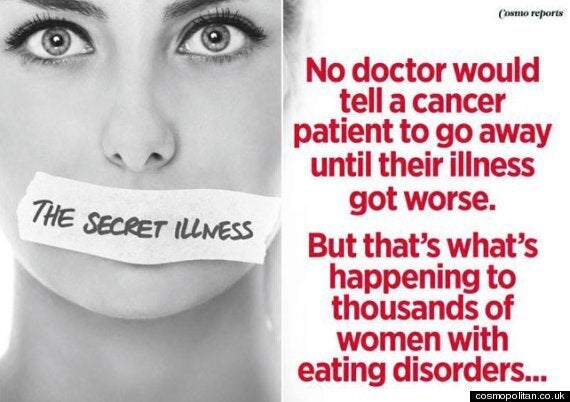 In the UK, 1.6 million people are suffering from eating disorders, half of which are diagnosed with EDNOS (eating disorder not otherwise specified) – the catch-all term for any eating disorder that doesn't fit the criteria for anorexia or bulimia.
These strict guidelines mean many young women aren't getting the help they so desperately need. EDNOS can be difficult to diagnose and although it's a serious mental illness, sufferers are often told to come back to their GP when they fulfil the criteria for anorexia or bulimia. This inevitably results in them slipping further into the grips of their eating disorder.
"EDNOS sufferers aren't just being 'a bit funny about food', they are seriously ill," said Louise Court, editor-in-chief at Cosmopolitan.
"The NHS is amazing in so many ways, but at the same time, it's failing so many women (and men) who desperately need help now, not in a year's time. We're therefore urging GPs to move away from the ethos of merely ticking boxes when it comes to assessing eating disorders. It's time to take a stand and help all these thousands of women who are suffering; a lot of them in silence."
Clare Gerada, former chair of the Council of the Royal College of GPs supports Cosmopolitan's campaign:
"I absolutely agree with Cosmopolitan's campaign. With mental health, if you fall outside of the diagnostic label – and lots and lots of people do – you can't get treatment, either until the condition gets worse, or it doesn't get treatment full stop.
"With eating disorders that fall outside these labels of anorexia and bulimia, there are treatments – mostly behavioural treatments – which are well tried and tested and we should have access to. But, for any mental health problem we currently have a 17-week waiting list for Cognitive Behavioural Therapy. You wouldn't have to wait 17 weeks if you had a broken leg. We need mental health to be treated the same as physical health, waiting times should be put in place and there needs to be better investment."
Care and support minister Norman Lamb added: "Mental health must be treated with the same importance as physical health and we are making positive changes. We are bringing in waiting time standards to set out the maximum someone should wait for treatment, investing more in talking therapies and we want GPs to have specialist mental health training, so when that person does gather the courage to seek help they are not left to suffer alone but given the support they need."
A report by Beat in 2012 found that eating disorders cost the English economy £1.26 billion a year, due to factors such as lost working days and treatment costs. This could be reduced by pushing early detection and prevention.
Figures released this month from the Health and Social Care Information Centre show a rise of 8% in the number of hospital admissions for eating disorders in the 12 months to October 2013 highlighting that early effective treatment is not in place.
So what is the solution, according to sufferers?
Emma Morris, 23, a learning support assistant from Hampshire, who had an eating disorder said: "Three years after seeing my GP, I finally recovered – but I think changes have to be made. We need more adult eating disorder beds, community mental health teams who specialise in eating disorders, and better outpatient services. Mental and physical health issues also need to be treated equally seriously, with the same minimum waiting times. The longer you leave an eating disorder, the harder it is to treat."
Related