WARNING VERY GRAPHIC IMAGES BELOW
These shocking images show a defenceless deaf-mute woman moments after she was attacked next one of the new World Cup stadiums in Brazil.
The vulnerable woman had been begging on the streets of Curitiba for food when she was brutally attacked by unidentified assailants.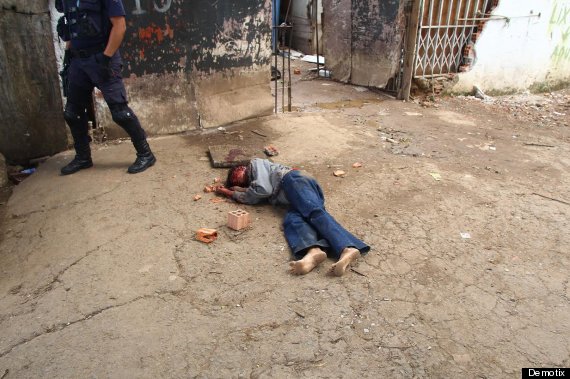 Municipal guards took the badly injured woman from the area near the Arena da Baixada stadium to local hospital, where it is believed she is recovering, according to local reports.
"She had a deep cut on the head and lost part of her ear," a Municipal Guard said. "As always, no one saw anything," he added. The distressing images are the latest controversy to emerge from the next World Cup host.
At the beginning of the month, workers at a Brazilian world cup stadium, located in the northern city of Manaus, threatened action after a third construction employee died at the site.
Six workers have died so far in preparations for the tournament.
Meanwhile, hundreds have been arrested this week as protests against World Cup spending have grown increasingly violent.
Numerous protesters have alleged that police instigated the violence with their heavy-handedness.
"The government is trying to make believe that Brazil is all cheer and carnival, but it's not like that. This is a very unequal country," 19-year-old protester Lucas Souza told AFP.
The World Cup spending, which has exceeded $11 billion, is also taking place amid controversial transport fare hikes.