Harriet Harman has changed her stance over the links between her old employer and a paedophile rights group.
Labour's deputy leader expressed "regret" over the link on Tuesday morning.
She has vigorously defended her actions as the legal officer of the National Council for Civil Liberties (NCCL) in the face of what she says is a political smear campaign.
The body granted "affiliate" status to the Paedophile Information Exchange (PIE) and is said to have lobbied for loosening of laws.
On Monday night, Harman said she stood by her actions "all the way through" her time at the NCCL when PIE was "challenged" and "pushed aside".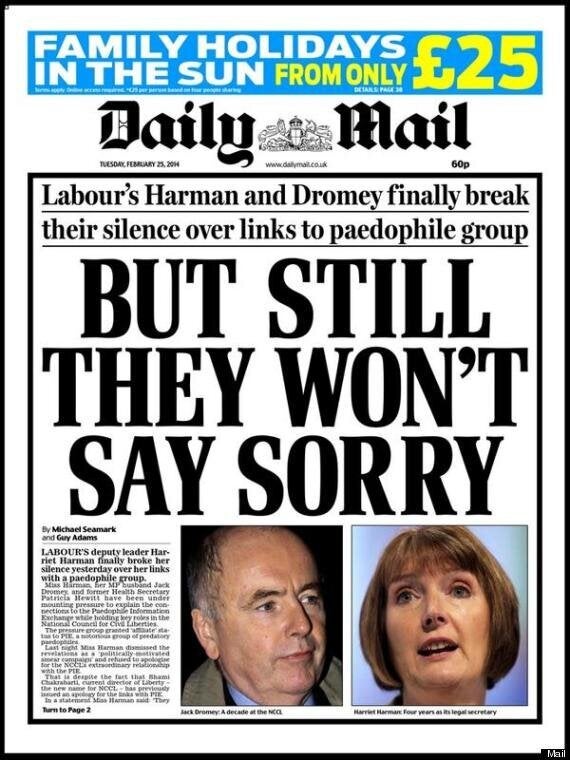 The Mail is not letting it go
She repeatedly sidestepped questions over whether it had been a mistake to allow PIE to be affiliated to the NCCL, telling BBC 2's Newsnight that anybody could join "simply by paying a fee".
The Daily Mail, which has run a series of stories related to the links, accused the shadow culture secretary of failing to answer the main charges it has levelled against her.
In a fresh statement this morning, a spokeswoman for Harman said: "She regrets the existence of PIE and she regrets their involvement with NCCL before she joined, although it was immaterial to her work.
"She stands by the statement from yesterday and she is certainly not going to apologise to the Daily Mail."