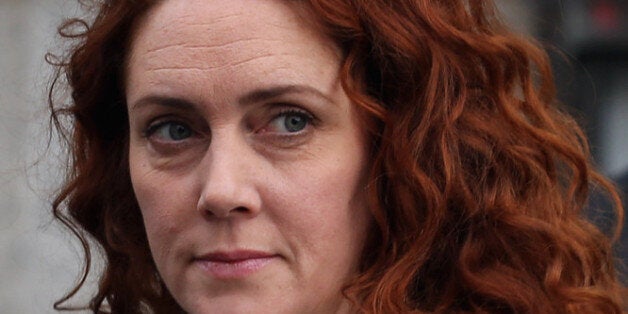 Former News International chief executive Rebekah Brooks has admitted paying public officials for information on "half a dozen" occasions during her time as a newspaper editor. But she denied knowing that the name of a source paid by the Sun for stories over eight years or that she worked for the Ministry of Defence (MoD).
The 45-year-old told the hacking trial at the Old Bailey she sanctioned payments on "a handful" of occasions between 1998 and 2009, when she edited the News of the World (NotW) and later the Sun. Asked by her lawyer Jonathan Laidlaw QC if she ever sanctioned payments to public officials, Brooks answered: "Yes."
Questioned on how many times, she replied: "A handful of occasions - half a dozen." She added: "My view at the time was that there had to be an overwhelming public interest to justify payments in the very narrow circumstances of a public official being paid for information directly in line with their jobs.
"Public interest - I and everyone else always finds this a very difficult subject to address because it's very subjective depending on what newspaper or media organisation you're in. Each newspaper has its own interpretation." The court has previously heard claims that MoD press officer Bettina Jordan-Barber received a total of £100,000 for information she provided to The Sun.
Jurors were told a record of payments was found relating to 71 stories across categories such as deaths in action, injuries in action, alleged misconduct, loss of Army property, and treatment of troops and their welfare. Mr Laidlaw asked if she knew who the journalist's source was.
"No I didn't know who Bettina Jordan-Barber was," she replied. Asked if Brooks knew the source was a public official, she replied: "No. "He never told me any of his confidential sources. I mean most journalists kept their contacts and sources pretty close to their chest. It's a standard thing in the industry."
Asked if she should have known the identity of paid sources, Brooks said: "There should have been a process for that to come to me so I could, if anything, take responsibility for it." Brooks told the court she had regular contact with "senior level" officers, including the Metropolitan police commissioner and other chief constables.
The former editor said she frequently met with senior military figures such as the chief of staff and army commanders who held posts in Helmand, Afghanistan. She also claimed to have meetings with figures from MI5 and MI6.
Brooks said public officials working for former prime ministers Tony Blair and Gordon Brown would often tell journalists information during the pair's "feud".
"We found both camps willing to tell particular journalists information, all of whom would be considered public officials," she said. Brooks denies conspiring with others to commit misconduct in public office between January 1 2004 and January 31 2012 and other charges.
Brooks said there were two main ways of making cash payments to contacts. One was a docket system where the journalist would fill out a form which would then be cashed in at the company's cashier's office and the money given to the source. The second involved cash being sent through the wire transfer service of Thomas Cook.
Mr Laidlaw took Brooks through stories in the Sun which had followed payments to Ms Jordan-Barber. A story with the headline "Captain Boozy Gets Barred From William College" was published in October 2006 when Brooks was attending the Conservative party conference, the court heard.
The former editor said she was "not sure" she would have sanctioned payment for the story, which referred to an army instructor getting drunk and causing trouble on a bus, despite being in the public interest. She told the court that reading the story did not suggest it had come from a public official.
"Seeing it in isolation it could have been any source," she said. "It could have been the bus driver or someone on the bus. It certainly touches my public interest, the public interest, test. If I would have been asked to sanction payment for this....despite the public interest in this, I'm not sure I would have done."
The court heard Brooks was in Australia in November 2006 when the Sun ran a story about the death of a female spy in Iraq. Asked if she would have known from reading the story that it had come from a public official, she replied: "I would not have particularly thought it did or it didn't."
Brooks said she would not have sanctioned payment for the story because "it would have come out any way". An email sent by a Sun journalist to Brooks in November 2006 was read to the jury. It said: "Morning boss, I wondered if you would please authorise the following payments for my number one military contact?"
The court heard that the sum amounted to a total of £4,500 and that Brooks emailed back within a minute with the response: "Of course". Asked if she would have remembered at the time which stories the payments related to, she said she thought she would have recalled one of them but not the others.
But she told jurors she would not have had any reason to doubt the reporter in question. "I'm not policing him. I'm not reading this email as we are now, looking for something wrong. At the time I think my state of mind would have been 'I think that's quite cheap at the price'."