As reports emerged of Russian troops digging trenches on the border with the Ukraine's Crimea, the UK Foreign Office announced a tough line with Russia, pulling out of G8 talks.
Britain will now not take part in preparatory talks due to be held in the coming days for the summit in Sochi, over Russia's decision to take military action in Ukraine, Foreign Office officials have confirmed.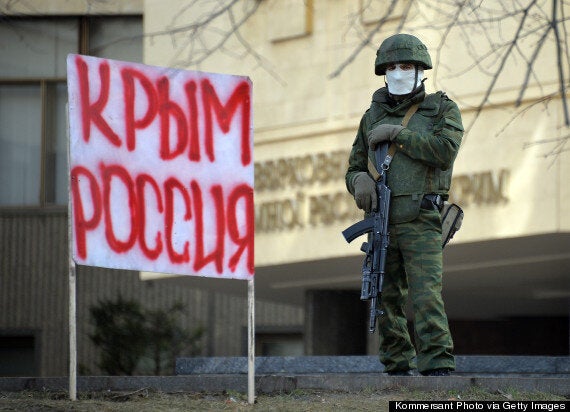 Unidentified gunmen wearing camouflage uniforms block the entrance of the Crimean Parliament building
In a tense 90-minute telephone conversation last night US president Barack Obama warned Putin that Russia had flouted international law and urged him to pull forces back to bases in Crimea.
Foreign Secretary Hague has gone to Kiev to hold emergency talks with acting president, Olexander Turchynov, as more Russian army vehicles rolled across the eastern border of the country.
Airports and key sites are in security lockdown, with Ukraine's government saying it had upped its presence at nuclear and communication sites.
In Crimea, parliament, the state television building and telecommunications' buildings have been surrounded by soldiers.
Hague summoned the Russian ambassador Alexander Yakovenko to the Foreign Office last night to meet political director Simon Gass and hear the UK's reaction to the deepening crisis.